In our Ad Design Series, learn how to use Canva to create ads for display during sports broadcasts. This blog series will take you through the entire process step-by-step, from collecting assets and working with Canva templates to designing a complete ad set and uploading to LIGR Live.
Who is this guide for? 🎥🏟️🏈
This guide is for LIGR Live users and sponsors who are beginners when it comes to designing digital banner ads for sports broadcasts. Although, if you aren't a LIGR user, this guide will still be useful. It will help you learn how to use Canva, a free design platform, to create professional-looking ads that are optimized for live sport.
You will benefit from this guide if you are a:
sports livestreamer with sponsors who don't have digital ads
sports livestreamer with sponsors that have ads that aren't in LIGR sizes
sports livestreamer that wants to show ads that promote their own business during their broadcasts – such as selling tickets or advertising their next livestream
sponsor who wants to create banner ads in house and supply them to broadcasters who use LIGR Live
We decided to create this guide because we want to help grassroots sports clubs to take full advantage of the LIGR platform and start to offer their sponsors basic design services. We have built a platform that allows grassroots broadcasters to integrate ads into their live streams, but we appreciate that many non-professional clubs don't have in-house designers or the finances to hire an advertising agency.
While there are existing guides on designing digital banner ads, tips on ad campaigns designed specifically for sports broadcasts are hard to find. And, if you are using design software for the first time, you won't find everything you need in one place.
What is Canva? 🎨
Canva is simplified design software that makes it very easy for anyone with basic computer skills to design professional-looking graphics, printed materials, videos, advertising, and more. Most design software is complicated, challenging to learn quickly, and expensive. Canva takes a different approach and offers a free browser-based platform, as well as a subscription-based pro version (with a free trial). Canva includes many built-in user-friendly features that are normally missing from professional design software, such as templates, stock images, and fonts. It also lacks most of the complex options that aren't useful to amateur designers, making it much easier to learn.
Why Canva? 🖌️
Canva is the best design software for beginners. It's free, and we've integrated a Canva button in LIGR Live that makes it super easy to upload your designs from your Canva account. Complete beginners can just pick a template, edit some text, change some images, and create good-looking ads in a matter of minutes.
Do LIGR Live users have to use Canva to create ads?
No. This tutorial will focus on Canva, but you can use most of these tips with Photoshop or other image editing tools if you already know your way around and you just want to learn how to create an ad set.
How is Canva accessed? 🖥️ 💻📱
There are a few different ways you can access Canva:
1. Install Canva on your computer like regular graphics software
We recommend installing Canva on your computer because it gives you access to features that aren't available on the web-based version (particularly the resize tool for Canva pro users) and it allows you to streamline the design process with multiple files open and cut and paste easily between files.
2. Canva's browser-based web app
If you can't install software on the computer you are using, the web app is the next best option.
3. The Canva button in LIGR Live
When you use the Canva button to design, it's not so easy to have multiple files open at once and copy elements between them, which is a crucial part of resizing ads quickly. You can do it using the Canva button in multiple browser windows, but unless you can't install Canva on the computer you're using, it's better to keep the Canva button for uploading your ads or making quick changes.
One of the tricky parts of making ad sets is exporting the image file in the right format and configuring compression settings so that the ads display correctly when they are shown during your livestreams. The Canva button takes all these problems away. You just select your Canva file, press the "USE image" button, and everything is taken care of.
4. Install the Canva app on a mobile device
Unless you have a high-end tablet such as an iPad Pro or Surface Pro, we don't recommend using the Canva mobile app (if you have a pro tablet, you can find Canva in the app store). Using a laptop will make the whole process much easier.
Can I create animated ads with Canva? 🎬
You can, but animated ads can't be used with LIGR Live – yet. Our platform is still very new, and static images are much easier to work with, both from a technical point of view and for our users to create ads. Animated and video ads, as well as traditional TV-network-style commercial breaks, are currently in development.
For now though, static ads are far easier to learn as there are no moving parts to worry about, so that makes your job a lot easier. When we launch animated ads, we'll release another guide to help you learn how to convert your existing ad sets into animated ads using Canva.
What's an ad set?
An ad set is a collection of ads of different shapes and sizes that are part of a single sponsor's ad campaign. Generally, the ads in a set all look similar and include the same messaging and images. Depending on the available screen space, the different sizes are used at different moments during a live sports broadcast. Small ads are used during the live action, while larger ads are used during breaks in play or before and after the game.
There are seven different ad sizes in a LIGR ad set, measured in pixels: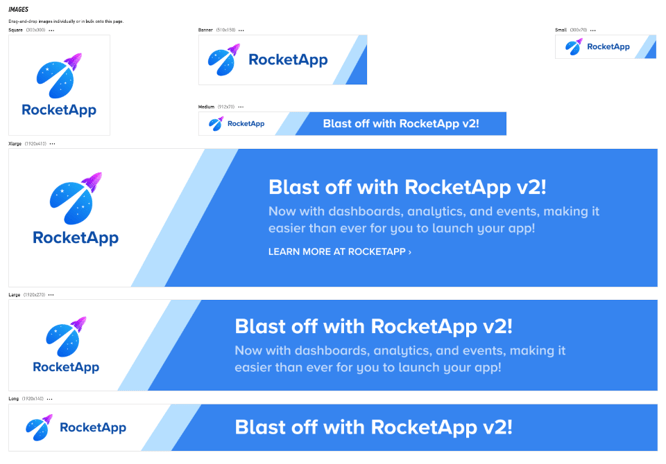 The seven ad sizes in a LIGR ad set: small, banner, square, medium, long, large, and xlarge
If you are familiar with digital advertising, you'll notice that LIGR's ad sizes are different from standard ad sizes like 468 x 60, 728 x 90, and 300 x 250. This is because ads on LIGR are based around the standard HD video dimensions of 1920 x 1080 pixels (which is why LIGR's three largest ads are all 1920 pixels wide, as they are designed to fill the entire width of the screen).
The 6 steps to creating an ad set for sports broadcasts
We've split the process into six steps (with a bonus step at the end). The basic process begins with gathering your assets. Then you'll design your ad using a Canva template before moving on to create your full ad set and set it up on LIGR Live. Finally, we've got some tips on keeping your ads fresh and then a bonus post on creating ads for self-promotion.
Over the next few weeks, we'll release each step one by one.
1. Collect Your Assets 🖼️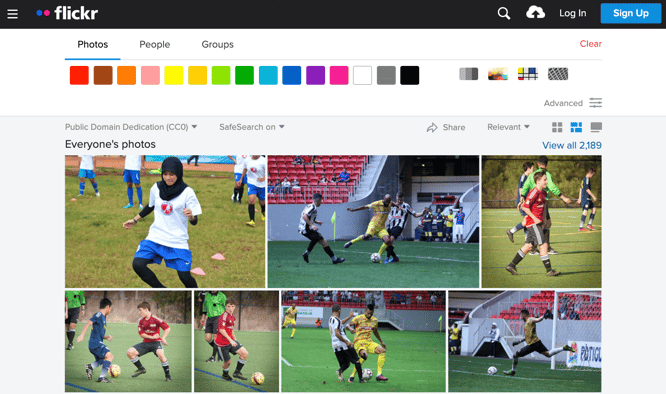 Using Flickr's creative commons search to find royalty-free images to use in your ads
The design process is all about narrowing down your options. Gathering your assets first gives you the building blocks for creating your ad design, then it's just a matter of assembling the parts.
The assets you'll need are:

1. A logo
2. A color palette
3. Fonts
4. Design inspiration
5. A message
6. An image
7. An action
👉 Read Step 1: Stop for a Moment and Collect Assets
2. Design Your Ad ✏️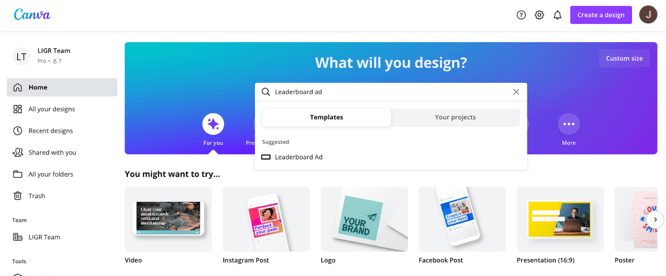 Using Canva's leaderboard banner ad templates
Banners are usually simple designs. You don't want a complicated design to get in the way of viewers understanding the message. A plain background with space for an image, logo, and messages are all you need.
Canva's templates can help inexperienced designers get over the challenge of starting with a blank page and quickly create banner ads. Just choose a template and then swap out the assets that you collected in step 1.
👉 Read Step 2: Design Ads the Easy Way with Canva Templates
3. Your First Resize 📐
The next job is to convert one ad size into another size. This is called an "ad resize."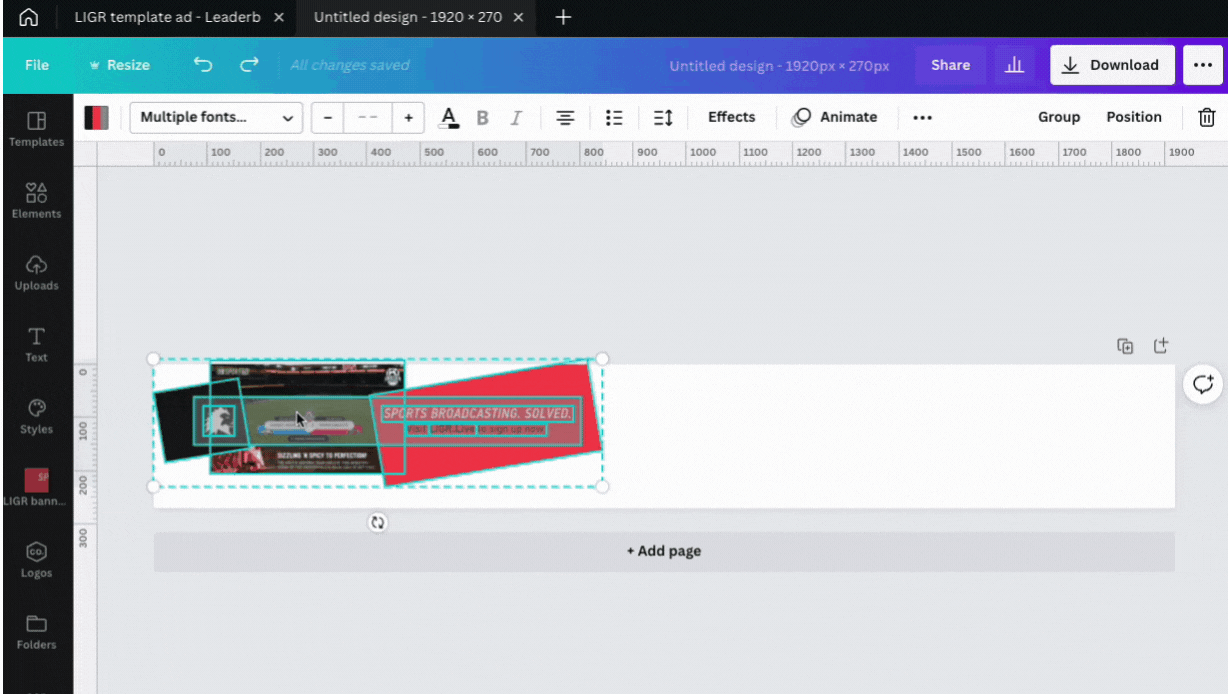 Using the scale tool in Canva to resize a banner ad
It's easy to do if you know how – and, if you don't, Canva has a handy built-in resize tool for pro users.
In this post, we'll go through each step to help you understand the process and how to use Canva's tools.
👉 Read Step 3. An In-depth Guide to Your First Banner Resize
4. Resize a Complete Ad Set
Once you've completed your first simple resize, you can then move on to different sizes and shapes.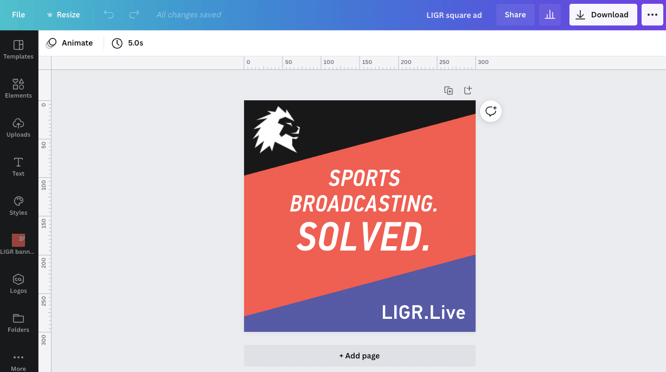 Designing a square ad as part of a LIGR ad set using Canva
In this post, you'll also learn how to make sure your ads work together as a set and how different ad sizes can deliver different messages about a product or service in a single live broadcast.
👉 Read Step 4. How to Resize a Complete Ad Set
5. Configuring Your Ad Set 🔧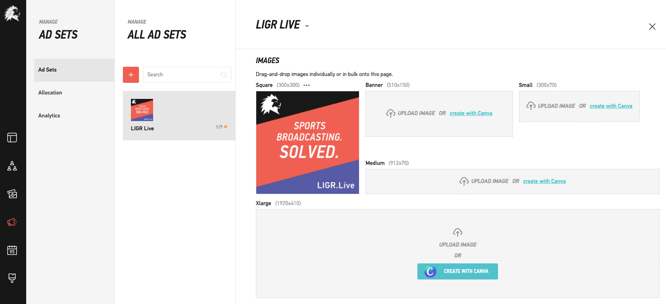 Uploading ads to LIGR Live using the Canva button
When you've finished designing your ad set, the next step is to upload the ads to LIGR Live. Or, if you're creating ads to send to a LIGR user to upload and configure, you'll want to learn how to export your files from Canva.
👉 Read Step 5: Uploading and Configuring Your Ad Set on LIGR Live
6. Refresh Your Ads ✨
Even the best ad designs will drop in performance over time. Viewers get used to ads very quickly, and they start to blend into the background. This is particularly true with sports audiences where a core viewership comes back every match.


Alternative color designs for the same ad
For this reason, it's best if you don't keep running the same ads for a sponsor for the whole season. If performance is initially good then drops off, you need a refresh. This means quickly changing something within your ads to keep things interesting, such as the color scheme or the message.
👉 Read Step 6: Refresh Your Ads to Keep Fans and Sponsors Happy
Bonus: Tips for Self-promotion 📣
Keep in mind that ad space within your livestreams isn't only for sponsors. You can use it to promote almost anything about your own business or sports club. Why pay to advertise elsewhere when you can reach your fans easily and for free?


A simple banner ad promoting club merchandise
In this bonus post, you can learn about the different ways you can self-promote during your livestreams and use our free Canva templates to create your ads.
👉 Read Ads Aren't Just for Sponsors – 8 Tips for Self-promotion
Follow us on Facebook or LinkedIn to receive updates when new blog posts are released.