Ads on LIGR aren't just for your sponsors. There are many ways that you can use ad space within your livestreams to promote your team or association – from advertising your next live match to making important announcements to viewers.
You can use ad space in your broadcasts to:
Advertise your livestreams
Boost ticket sales for games
Get signup for newsletters
Promote social media accounts
Get donations from fans
Sell merchandise
Promote projects in the local community
Make announcements
Advertise for players, enrollment in the academy, or open days
When you design ads to promote your own sports club, team, or organization, you don't need to worry about brand guidelines or external companies to sign off your designs. As long as people within your club are happy, you can start with very simple designs and then experiment as you learn to use Canva.
I have created template designs in Canva that you can quickly adapt to promote your organization on your livestreams.
Below each example is a link that will open the template. All logos and team names have been removed so that you can drop in your logos, names, and team colors. These templates aren't based on Canva's leaderboard size templates, they are LIGR large size ads and therefore don't need to be resized to use on LIGR Live. Although, you will need to follow the resize process outlined in this guide to make the other six sizes and complete your ad set.
Promote your livestreams 📣
One of the best uses for your ad space is to remind viewers of upcoming fixtures. This helps boost viewing figures, and it also helps viewers realize that ads include helpful information.


This fixture promotion template is available here
You can include the competition logo and the type of fixture on the left, and on the right, you can enter the date, time, and where viewers can watch the game.
To convert this template to advertise your fixtures, you can swap out the club logos, type in your team names and then change the colors to match the team colors (see how to use the color picker in Canva here). If you want to create a complete ad set using this ad template, you can follow Step 4 in this guide.


This ticket sales template is available here
In this design, I have made a copy of the team logo, sent it to back, and used Canva's transparency tool to set the transparency to 8% to add some texture to the background.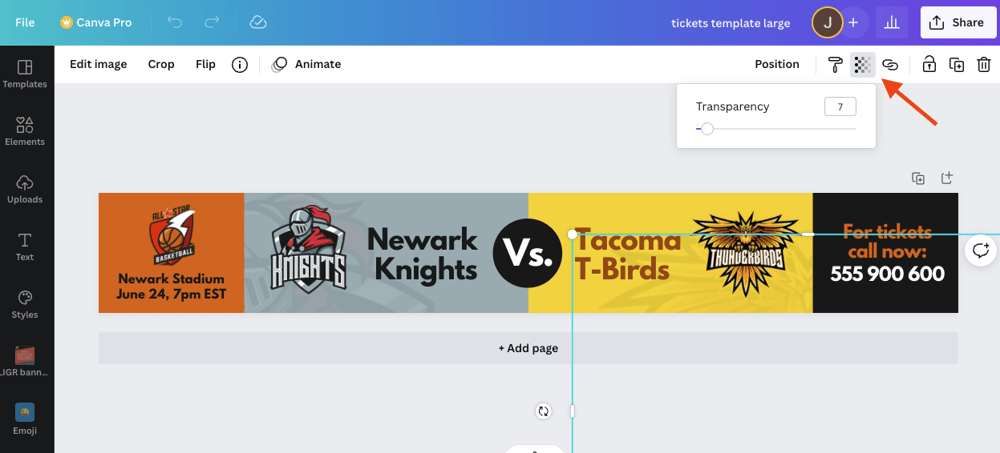 Using the transparency tool in Canva

Get donations from fans 💰
Monetizing live sports streams can be difficult for small clubs while requiring a subscription to watch games can alienate your fanbase.
Crowdfunding can help solve these issues. You don't need to set up a subscription-based platform to broadcast your livestreams, and only the fans who choose to support you need to pay. Young fans or those without the funds can continue to watch for free.
All you need to do is set up a crowdfunding campaign on a platform such as makeachamp.com, then advertise your funding campaign link during your livestreams.


This donations template is available here
Sell club merchandise 👕
The perfect time to advertise merchandise is when your team is winning. If you have an online club store or your club's merchandise is available to buy online elsewhere, you can promote sales during your livestreams.

This merchandise template is available here
An ideal chance to reach your biggest fans
Your livestreams are the perfect place to promote almost anything related to your club, and unlike with social media announcements or press releases, you know that most of your fans will be watching the game. For any small club, it's an ideal opportunity to reach its fans, and it costs nothing. All it takes is a little time to learn the basics of Canva.

Please go ahead and use our templates to start promoting your organization during your livestreams.
👉 If you haven't already, read the introduction to this series: The Ultimate Guide to Creating Ads for Sports Broadcasts with Canva