You don't have to automate the live graphics on your streams when using LIGR. If you prefer, you can operate the graphics in manual mode. We recommend that users without any production experience should take advantage of AUTO mode, as it's the most straightforward and efficient way to control your graphics.
When using AUTO mode, there are two ways to automate the graphics on your live stream: live scoring by a human operator, or a data feed from an official data supplier.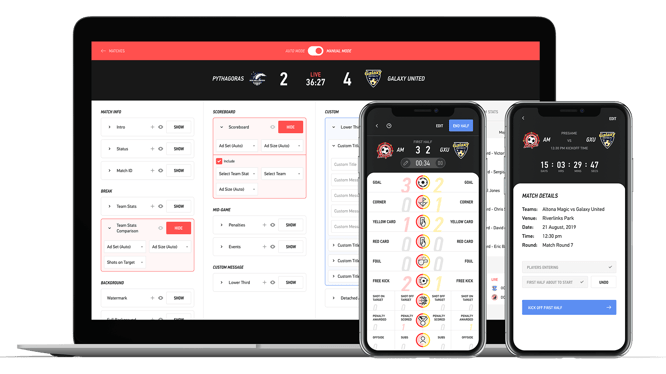 LIGR manual graphics control center, pictured on laptop and LIGR LiveScore app pictured on smartphone.
Live Scoring a Game
If you choose the human route, then you'll need to designate someone to score the game. Scoring is done using the LIGR LiveScore app, a simple mobile web app with buttons that the live scorer uses to log the events that happen during a match. When a button is pressed, the app transmits the data to the LIGR platform and instantly triggers the correct graphic to be shown in your live stream. The app can be used at the game or remotely by watching the video feed from the game.
Before a game starts, the live scorer can use the app to confirm the starting lineup and the substitutes. This allows the team lineups to be displayed in a graphic before kick-off, and display player-level data during the game, such as shots and goals. The live scorer can also use the app to swap players when they are substituted, which also triggers a substitution graphic and updates the list of players available within the LiveScore app.
At half time and full time, the match stats will be shown on screen in a team stat graphic. These stats are also logged and aggregated over a season, which can be used for analytics.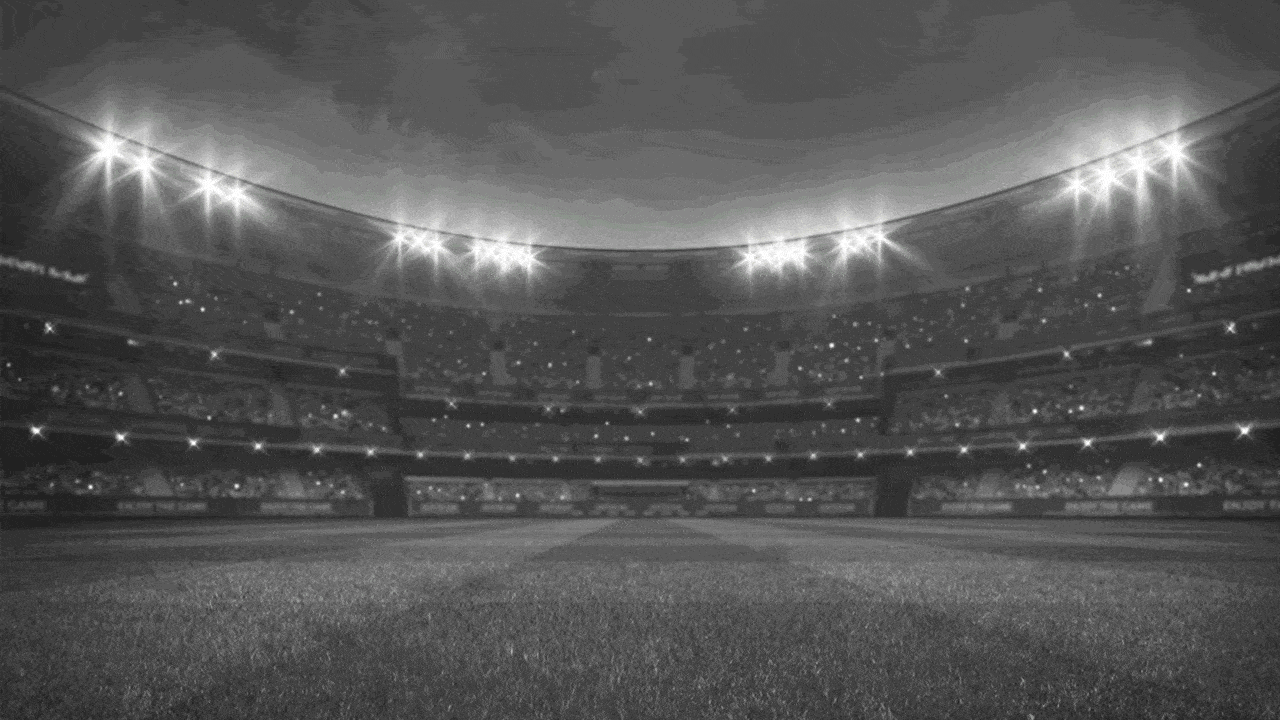 Team stats graphic with advertising, powered by LIGR.Live.
The LiveScore app can be used on any device that has a web browser. It's designed for a smartphone screen, but it works just as well on a Windows or Mac computer.
When you assign a LIGR user as a "Live Scorer" (see Step 1), they can only log in and access the LiveScore app and score games that have been assigned to them (at score.LIGR.Live). They cannot access or edit settings within the LIGR platform (at LIGR.Live).
Designated live scorers just need to log in to the LiveScore app, select the game they will be scoring, and press the relevant button when an event occurs within a game. Anyone with a working knowledge of the sport can score a game without any training.
Data Suppliers
The alternative option for automating live graphics on your stream is to use a data supplier. LIGR is compatible with a growing selection of leading official data suppliers. These data suppliers capture game data for a vast number of teams and sports, which are then sold on to sports services such as live score reporting or gambling companies.
We can add new data sources based on demand, but we also have an API that can be used to build a custom integration between LIGR and your own data source.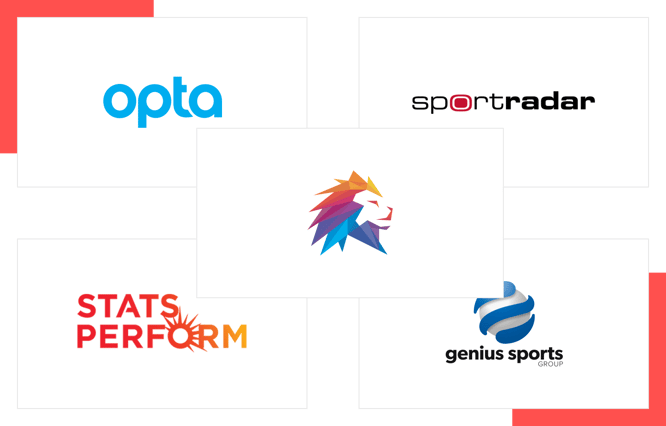 Some of LIGR.Live's official data supplier integrations.
If your club already has an official data supplier, it can be used to automate your graphics instead of using the livescore app. Once this has been configured, the graphics for your streams will be displayed automatically.
Now you should have everything in place to stream your first live game. The simplest way to do this is on one of the major streaming platforms, such as Facebook or YouTube.
Connect your camera to your laptop and open OBS Studio on your computer (covered in Step 5). OBS has a handy built-in configuration wizard, which is accessed from the tools menu. Select "Tools > Auto-Configuration Wizard" and choose "Optimize for Streaming." Set the resolution you want to stream at, then select the platform where you want to stream the game.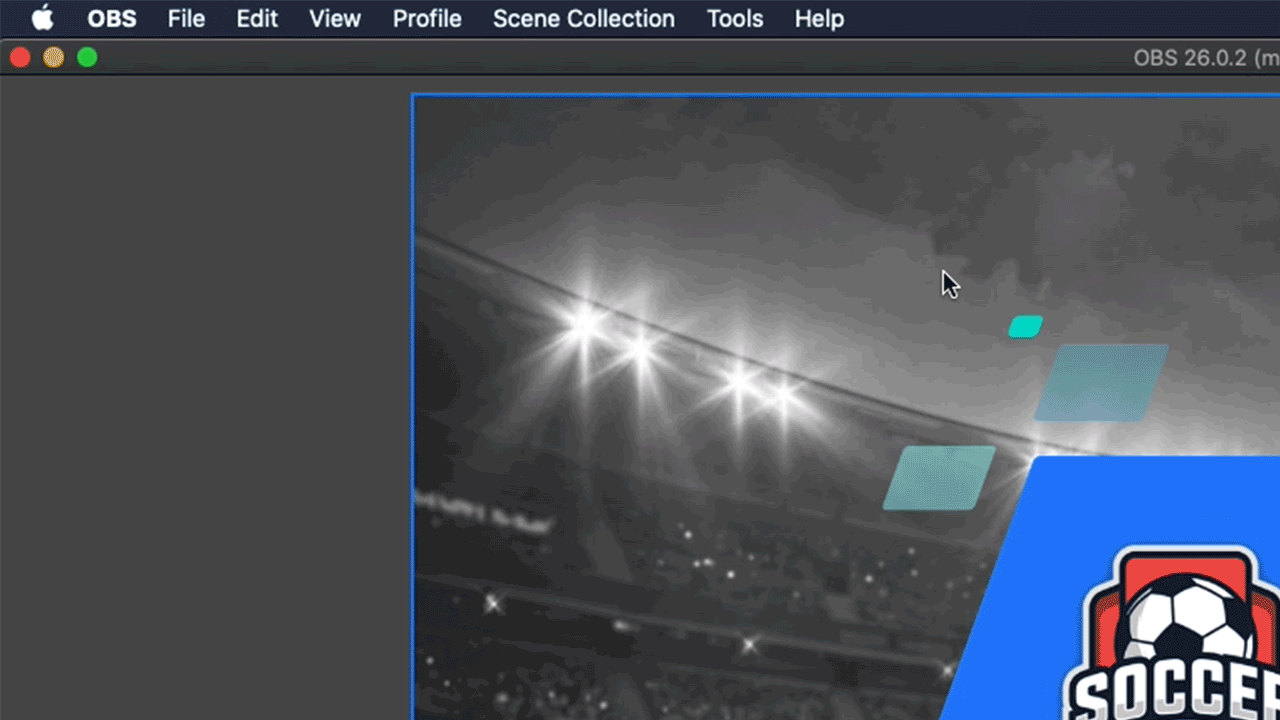 OBS Studio's Auto-Configuration Wizard.
You will need to set up the stream on your chosen platform and get a stream key to paste into the relevant field here. These guides will show you how to set up a stream on Facebook Live or YouTube.
When the wizard has finished, hit "Start Streaming" at the bottom right, and you're good to go. Head back to your selected streaming platform to preview the stream, then put your first game live!
Over The Top Platforms
You could also consider setting up your own live streaming service to stream games known as an Over The Top (OTT) platform – rather than using an existing platform like Facebook. This allows much greater control over data collection, advertising, and subscription fees. Having your own platform also makes it much easier for fans to log in and watch previous games.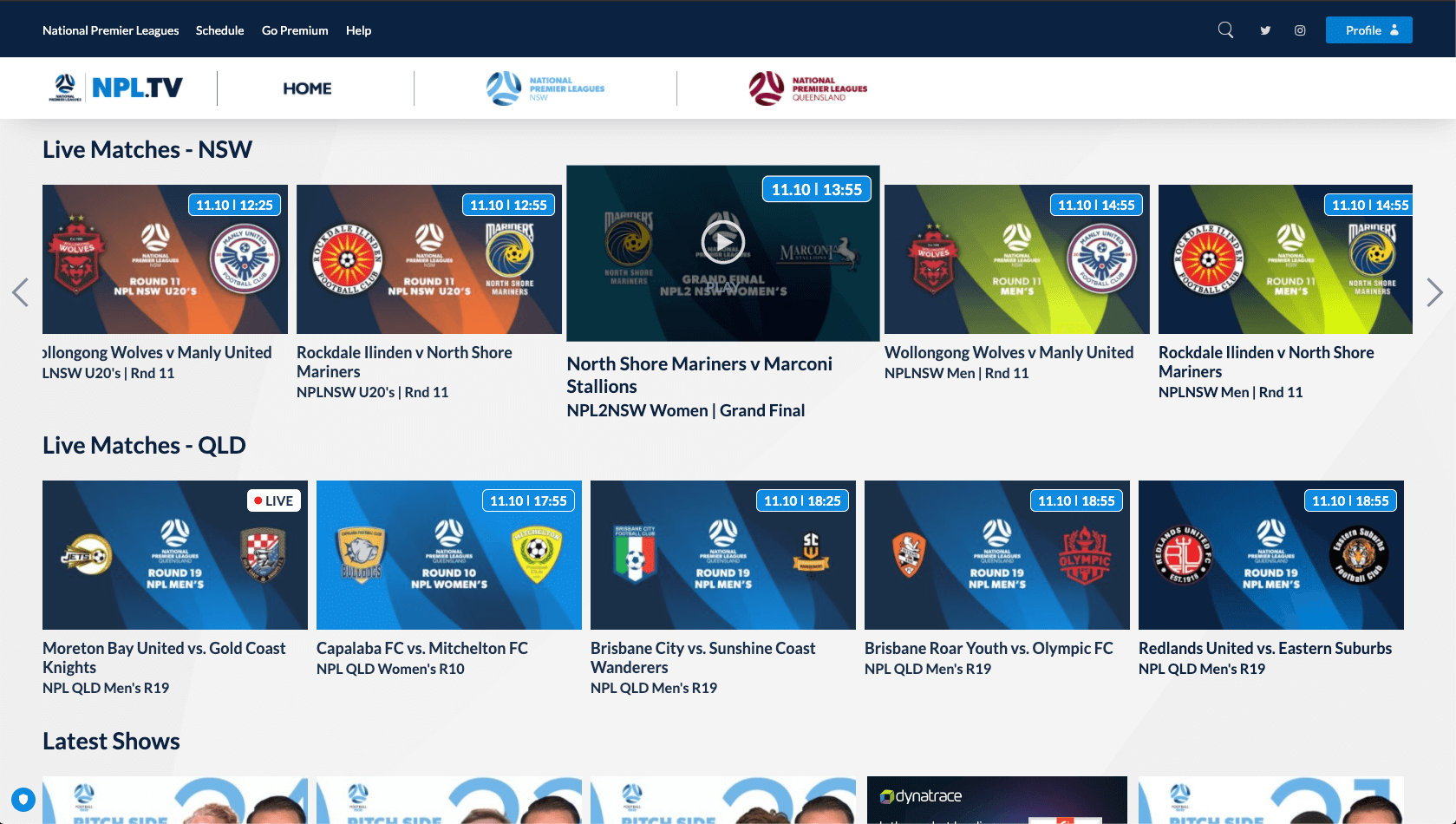 Football NSW's & QLD's OTT platform NPL.tv
A good mix is to broadcast live games on your own platform and release highlights in real-time on your social media channels. Posting match highlights can help generate engagement between your club and the fans. It can also help you to gauge the level of interest and attract viewers to your OTT platform.
More Resources
We've only scratched the surface of what's possible with LIGR, so if you'd like to know more, please take a look at the following resources:
For more details on each type of graphic and how it's used, read our Live Graphics, Statistics and Sponsors for Grassroot Sports Broadcasts series of blog posts.
To find out more about advertising and how you can earn revenue from your live streams, read our Live-Streamed Sports & Sponsors series of blog posts.
For an in-depth guide to choosing equipment and software, download our ebook.