The LIGR graphics overlay makes it possible to put live graphics on top of a video stream. This is the main purpose of the LIGR.Live, and it allows our users to improve viewer experience and tell the story of the game.
LIGR.Live outputs the overlay in the form of a webpage URL. This is the easiest way to output the live graphics from the LIGR platform so that you can mix it with live video from your game. The webpage is mostly transparent so that the video of the game can be seen underneath the LIGR graphics overlay. A vision mixer is used to output these two layers as a video feed that can be streamed by viewers.
To generate a graphics URL, log in to LIGR.Live and click the matches icon (the VS icon). Create a match and then, once the match is created, click on the three dots to the right of the match and select "Get overlay link."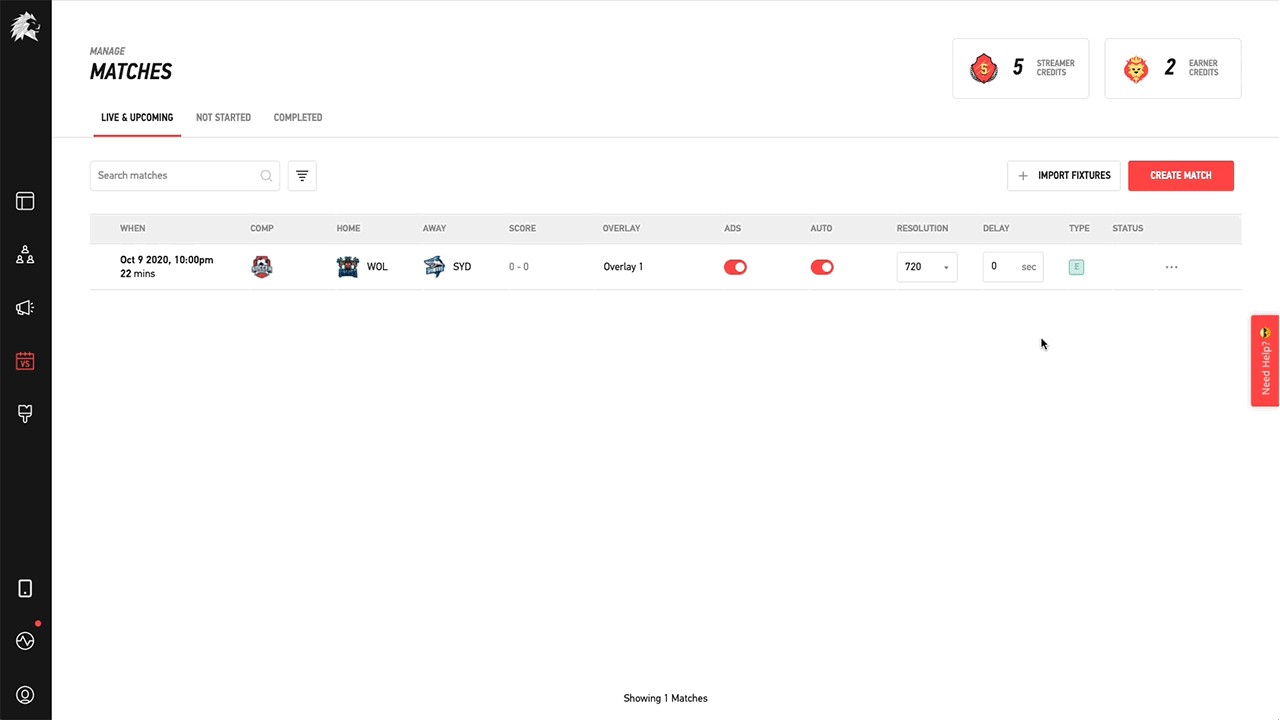 Create a match and then click the ellipses to the right to generate the graphics overlay link.
Each match has two overlay links for different purposes.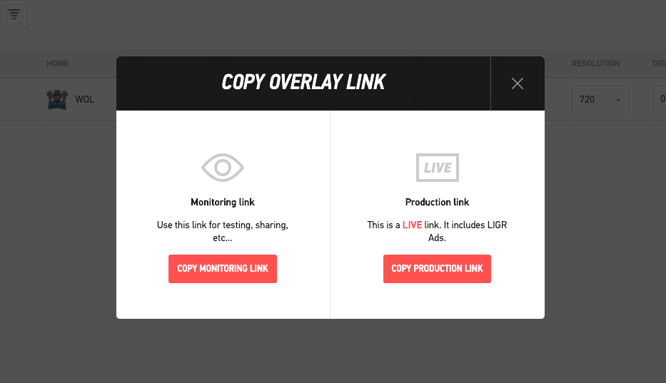 There are two overlay link types - one for monitoring or previewing your graphics and one that is used for your live production output.
The Monitoring Link is used for testing or sharing to see how it looks. Ad displays or loads of the monitoring link are not tracked by the LIGR platform.
The Production Link is used for the live stream that your audience will see. This link should not be shared with anyone. It can only be loaded into one production tool at a time, ensuring we only track the ad displays that your audience actually sees. The data collected is used to generate advertising reports.
To preview the Monitoring Link, just copy and paste it into a browser window. To use the Production Link, you'll need to copy and paste it into the right place in a vision mixer. A vision mixer is either software or hardware that mixes different video and audio inputs into one video that can be streamed to the public. When streaming using the LIGR platform for graphics, a vision mixer will normally be used to mix three sources:
video input (usually a camera that is following gameplay)
a URL input to display the LIGR graphics overlay
audio input from a commentator


For more information on video mixers and other streaming technology, download our ebook.
OBS Studio, a software video mixer, is the most straightforward way for beginners or budget-conscious streamers to mix video and audio as it's completely free to use (Download OBS Studio here. For an introduction to OBS, see their quickstart guide).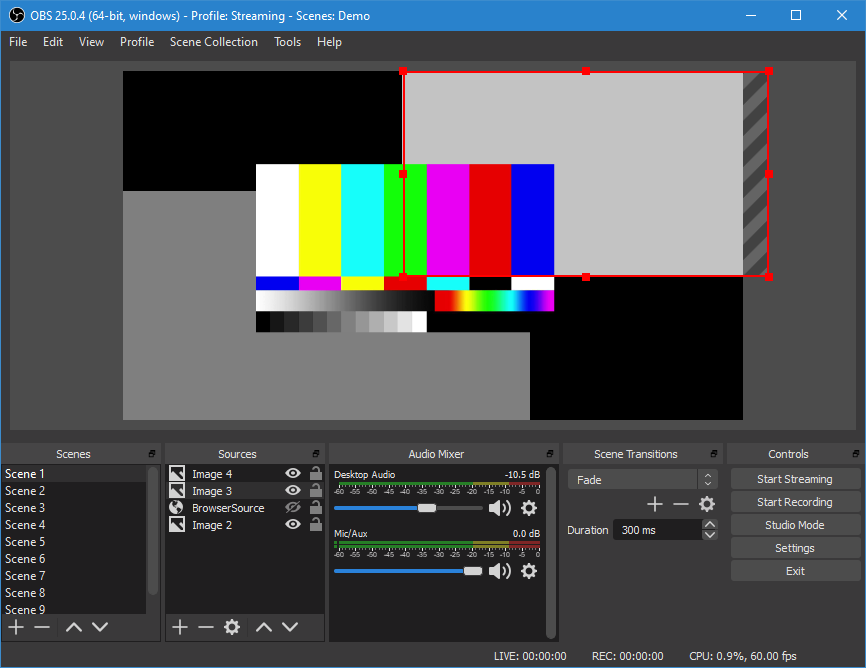 OBS Studio, a popular, free, open-source software vision mixer.
Although OBS is a powerful broadcast-quality video capture and mixing application, you won't need to get bogged down in any advanced features. You'll only be using it to overlay your video with live graphics.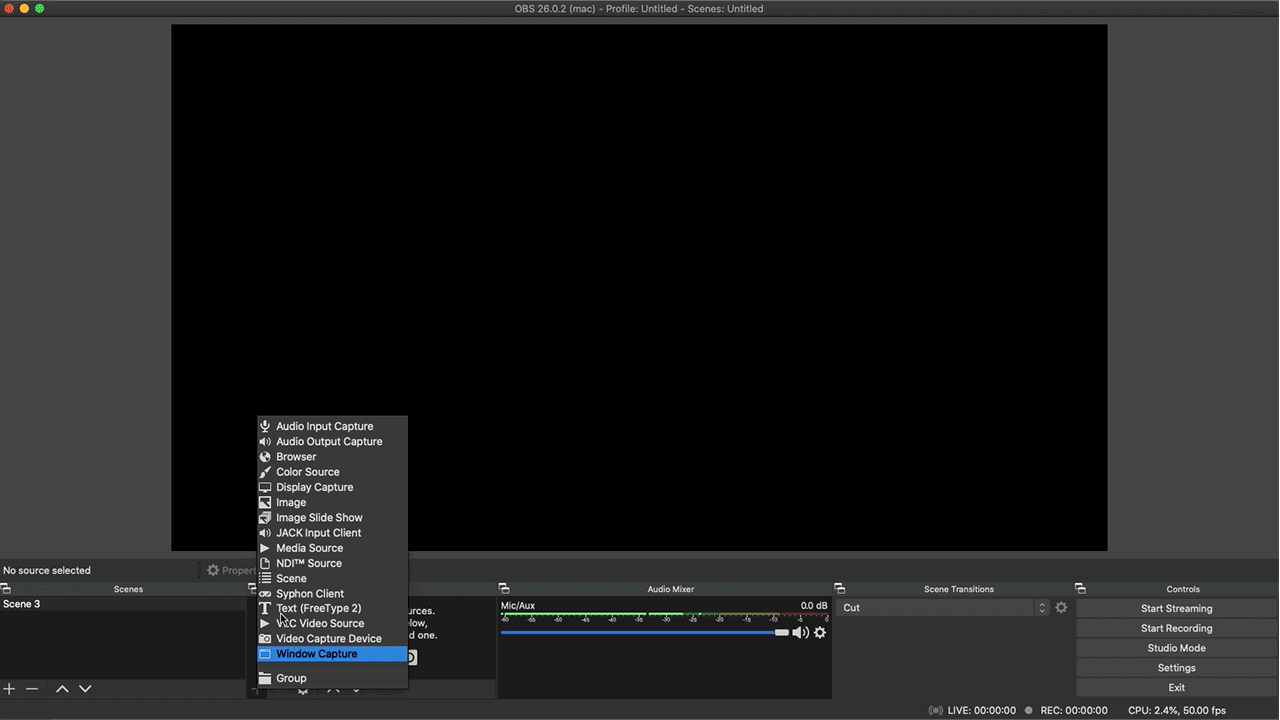 The LIGR graphics overlay is applied via a "browser" source in OBS Studio.
On LIGR.Live, press the "COPY PRODUCTION LINK" button, then open up OBS Studio on your laptop and press the + button at the bottom of the "Sources" panel. Select "Browser" and give your new source any name. Then paste the production link into the URL field and set the width and height to match your camera output (FULL HD is 1920 x 1080). After a few seconds, you should see the LIGR graphics overlaid on your live video feed in OBS.
Now, there's just one more step before we can put your stream live. In Step 6: Automate Live Graphics, we'll introduce you to LIGR's LiveScore app, a very powerful web-based smartphone app that allows anyone to score a game and control the live graphics on your stream from pitchside.