The message that a sport sponsor's ad campaign delivers to the audience is, without doubt, the most important part of a campaign. A strong design or powerful image might catch the eye, but viewers will just continue watching the game and forget they ever saw the ad if the message doesn't inspire.
In this series of blog posts on servicing sponsors, we want to help grassroots sports organizations understand the world of digital advertising and pass on our industry insider knowledge. As we have mentioned in previous posts, Ideally, your sponsors would supply you with high-quality ads, and you would not need to get involved with this kind of work. But, we believe it's in your best interests as an advertising platform to ensure that your sponsors' ads are the best they can be.
Even if you never actually have to write advertising copy for your sponsors' ads, the best way to learn how to judge if a campaign has strong messaging is to learn how to write good ad copy. Then you'll be able to critique your sponsors' ads and decide if the messaging needs to be tweaked before the campaign goes live. It's likely that your sponsors will have no experience of designing ad campaigns for live-streamed sport, so it's up to you to help them get the most out of their sponsorship deal with you.
Less is More
The first thing to remember is that short, easy to read sentences are a top priority. It can be tempting to cram as much information into the ad as possible, but this rarely performs well. Try to keep ads to a single message, benefit or offer, as space for messages is limited. If you have something else important to say, it's better to create another ad and see which performs best.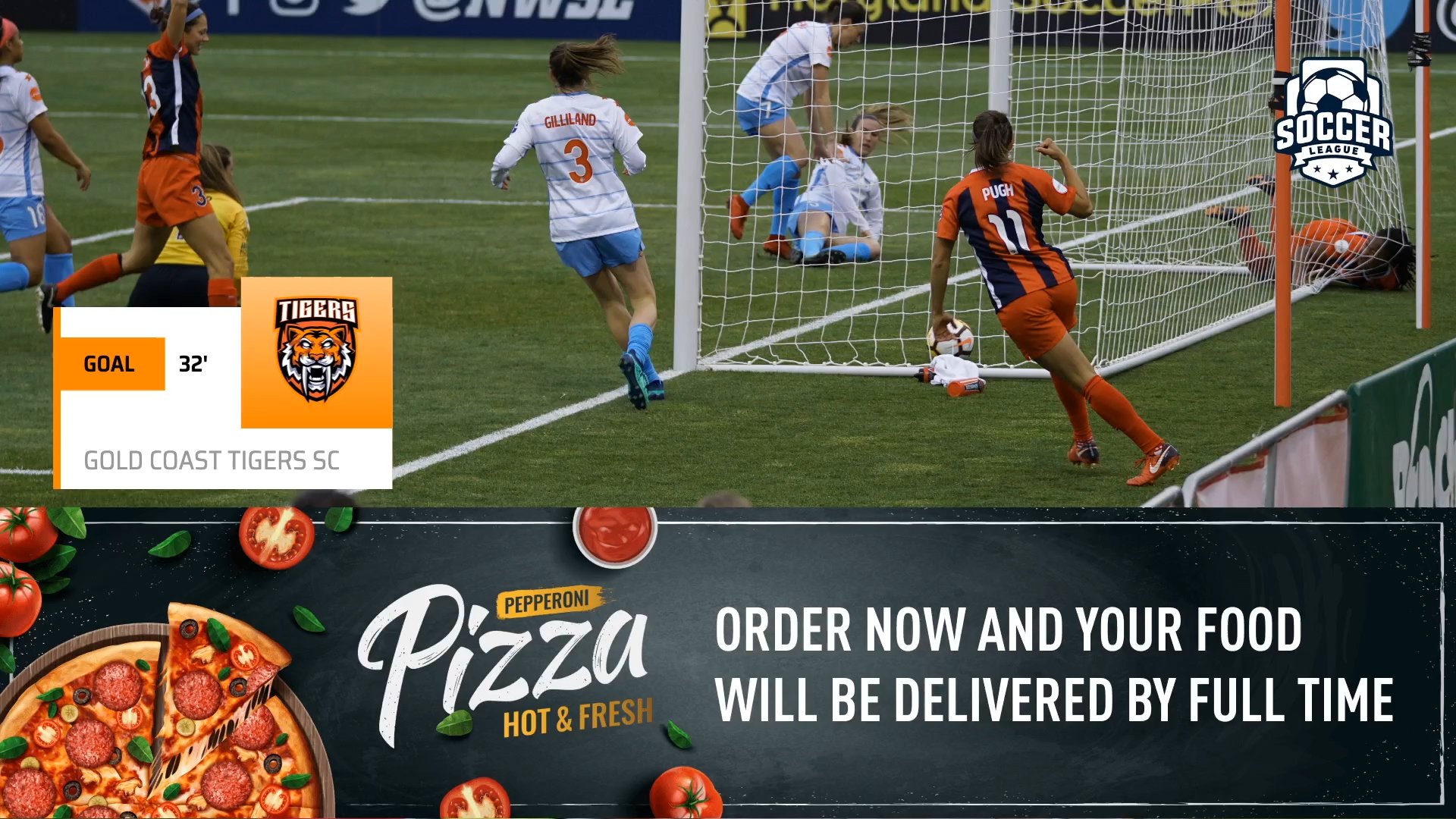 An example of an advertisement attached to a goal event graphic, powered by LIGR.Live.
Branding or Direct Response?
There are two different kinds of ad campaign, branding and direct response; each one requires a different approach. With a brand campaign, the goal is mainly to raise awareness. The sponsor isn't trying to get the viewer to do anything right now. With a direct response campaign, the aim is to get the audience to do something, such as buy a product or visit a website. Brand ads are emotional; direct response ads are more functional (see Live-Streamed Sports & Sponsors: Why Exposure Is King in Sports Advertising, Not Clicks for a more detailed explanation of the differences).
It's an important distinction because a direct response ad has to deliver more information. The best way to understand this is to look at some examples.
Live football graphics, with an attached Volkswagen advertisement.
This brand ad for Volkswagen doesn't need to mention any specific car models, prices, or where to buy a VW. The ad is just saying: This is what we represent. Do you agree? Do you feel like you belong with us?
Messaging for a brand ad should be emotional. You want to trigger an emotional reaction that strengthens the relationship between the viewer and the brand.
Compare this to a direct response ad for a VW dealer.
Volkswagen Jetta advertisement.
The ad includes the price, the model, and a clickable link to view the available inventory. (This ad was designed to appear on websites, so it has a clickable button. If the ad were intended for a live stream broadcast, it would need to include a telephone number or a website address.)
Messaging for a direct response ad should be more functional. In this example, the price is the most potent message, so other information was deemed unnecessary. Direct response ads can also talk about benefits and give the audience reasons and information to make an action that could lead to a purchase.
Focus on the Goal
The best approach to writing or critiquing ad messaging is to think about the primary goal of the ad campaign. What is the "response" that your sponsor wants from the audience? Are they supposed to buy something? Register for an account? Claim a special offer?
Your headline message should communicate the most powerful, concise, easily understood sentence that will help convince the viewer to do this. As in the above example, if the price is good, and it's in a market where cost is a factor in the purchase decision, the ad should lead with the price. If there is a feature or part of a service that all customers love, then lead with that. If there's something unique that differentiates the brand from its competitors, then it should be included in the ad.
The ad should always explain precisely where or how the viewer can buy, register, or whatever action they need to perform. It seems obvious, but it's incredible how many ad campaigns omit this vital information and expect the customer to go and search for it.
In this example, the lead message, "Big game bites," suggests that pizza is a great meal to have when watching the game.

Then, the only other message is the instructions for how to claim a 20% discount. As far as the messaging is concerned, this ad ticks all the boxes for a direct response campaign:
a strong, memorable headline message that works with the image
simple language
short words
a single, uncomplicated message
full instructions on what to do next
If you ensure that your sponsors' campaigns follow this template, you will give them the best chance of success.
Usually, tracking the performance of digital ads is something that happens in the background. But since live-stream ads can't be clicked, tracking is handled a little differently. In the next post, we'll explain how tracking can be done using phone numbers, website links, and QR codes. To find out more, read: Why it's Vital to Track Performance in Live Stream Advertising (coming soon).