Exposure on social networks is an integral part of most sports sponsorship. It can be surprising to discover that a sponsor's exposure during a live broadcast is often dwarfed by the number of times the brand is shown across Facebook, Twitter, TikTok, Instagram, YouTube, and countless other social channels and messaging platforms like WhatsApp and Telegram
Take any English Premier League fixture, for example, Manchester City against Aston Villa. A search on Twitter for the hashtag #AVLMCI shows thousands of videos and images, each one with multiple likes and shares. The numbers are staggering, and nearly all of the videos and images show the logo and pitch-side ads for Etihad Airways or Kazoo, the main sponsors of the two clubs. This all adds up to hundreds of millions of exposures across the web for these brands worldwide, from both official and unofficial sources.
Second screening – when fans watch on one screen and get involved in the conversation about the game on another – is now a fundamental part of watching live sports. Being part of a community, sharing clips, and giving opinions are all part of the experience for modern-day fans. This is something that big brands recognize as it's something that they don't get with standard digital advertising.
When anything significant happens in a game, it immediately goes viral, and everyone scrambles to be a part of the conversation, from fans and ex-players to brands, news outlets, and official sponsors
A tweet from sports radio channel TalkSport commenting on John Stones red card against Aston Villa
This kind of widespread coverage is expected for professional-level sport, but it also happens in grassroots sports. A campaign we worked on for men's health brand Pilot as part of their sponsorship of grassroots soccer in Australia is an excellent example of this. The sponsorship deal was negotiated between LIGR and Pilot based on the fact that seven of the nine soccer federations in Australia use LIGR to run their live streams (more than 2,500 games each season). These federations cover teams in the semi-professional NPL, the second tier of soccer, one below the A-League.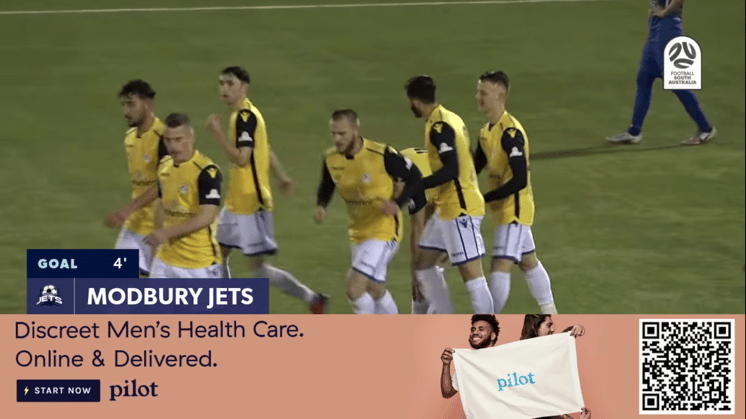 An ad for men's health brand, Pilot, shown immediately after a goal for NPL south team the Modbury Jets. Powered by LIGR.Live.
The campaign itself is innovative, allowing men to scan the QR code within the ad and instantly access discreet health advice on their smartphones. The QR code not only makes it easy for viewers to interact with the campaign, but it makes it possible for Pilot to track responses and measure the performance of the campaign. They know exactly how many ads were shown, the games they were shown in, and how many viewers responded to the campaign.
When Gold Coast Knights player Mason Cross scored a stunning goal on his debut against their local rivals, the Pilot health ad was shown straight after the goal. This happened automatically as it was preconfigured on the LIGR.Live platform as part of the campaign. Football Queensland's tweet about the goal, which included a video clip, went viral attracting over 1 million views. Crucially, the clip included the Pilot ad, complete with QR code. Pilot got over a million extra views for their campaign on Twitter – way beyond the audience for the actual game.
The Pilot campaign was seen more than 1 million times on Twitter
It's impossible to plan for wonder goals going viral on social networks, but it still holds true that in grassroots sport, live attendances for games are just a small part of the audience that is exposed to a sponsor's branding and advertising. Often, the livestream audience is significantly larger, and exposures on social media larger still.
Ad agencies and social media teams talk about "going viral" all the time, but it's extremely rare that any marketing or advertising actually does (I worked at an advertising agency for ten years and we achieved this only twice). Sports content is some of the most shareable content out there, and the great thing is with a wonder goal, it doesn't matter if it was scored by Lionel Messi or a semi-pro footballer in a second-tier league. It will still spread like wildfire and generate massive exposure for the sponsors involved. The same can be said for amazing home runs, touchdowns, long-range three-pointers, and any other jaw-dropping moments. If you're new to sports sponsorship, it's essential to understand this vital role that social channels play so that you can fully maximize your sponsorship deals.
How Nike and McDonald's Investment in Grassroots Sport Has Paid Off
Nike and McDonald's know a thing or two about advertising. They work with the industry's best agencies, and they regularly win awards for their work. Both are big believers in grassroots sports sponsorship, investing in thousands of clubs, leagues, tournaments, and community sports programs worldwide. In our next article in this series, we'll take a closer look at some of these sponsorships and the key takeaways. To find out more, read How Nike and McDonald's Investment in Grassroots Sport Has Paid Off (coming soon).