The world of grassroots sports sponsorship is going through seismic changes. The technology-driven transition from traditional sponsorship such as shirt sponsors and pitchside advertising to digital activations like in-stream advertising and sponsoring social content is completely transforming the industry.
Leading global advertisers such as Nike, Coca-Cola, and McDonald's are investing heavily in partnerships with non-elite sports organizations. These big brands see it as both an economical way to reach a global audience of sports fans and a way to support community sports programs.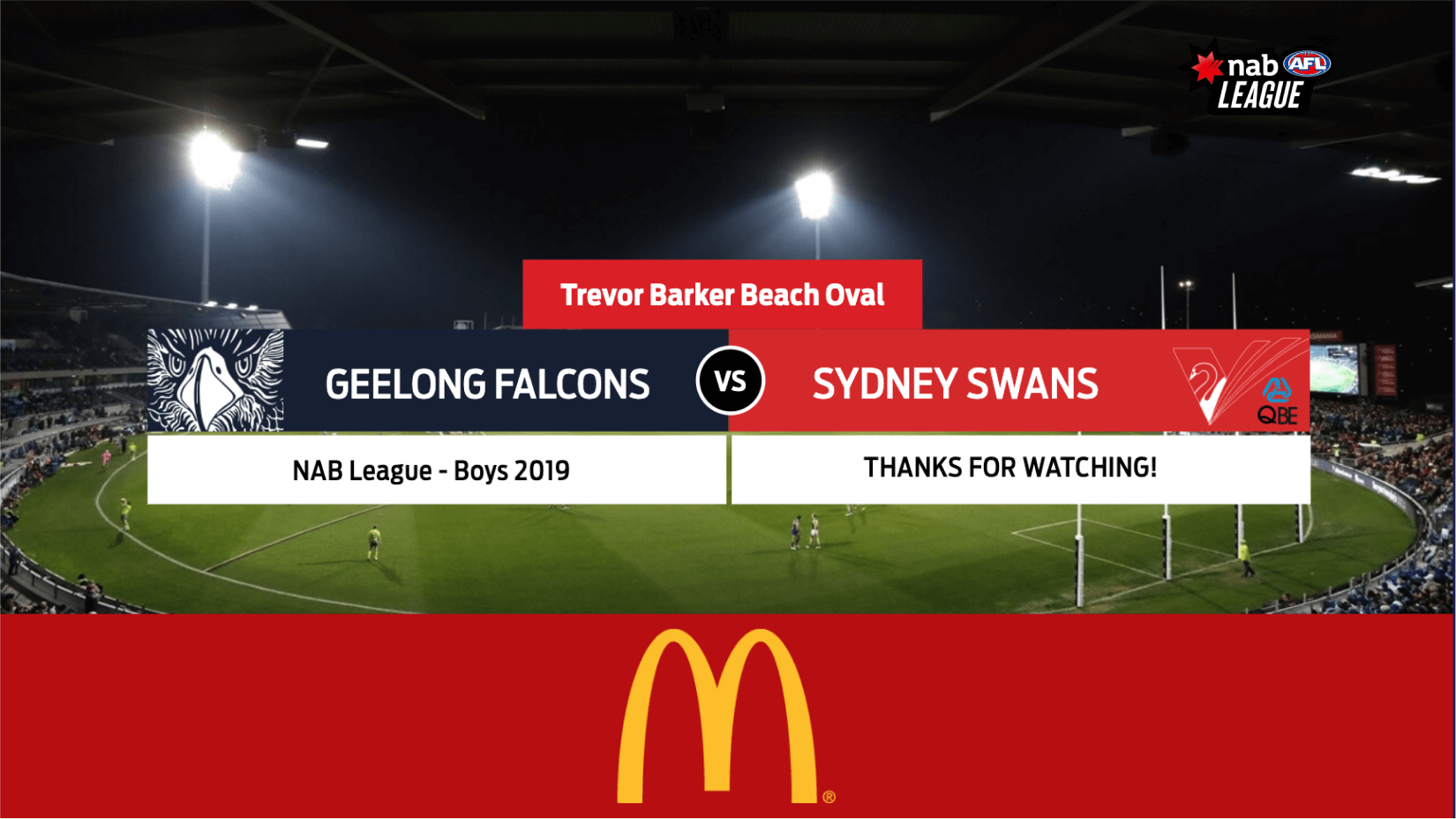 A McDonald's ad shown during an under-19 Australian rules football livestream broadcast. Powered by LIGR.Live.
In this post, we want to help advertisers understand how non-elite sports sponsorship is changing and how they can get involved. At LIGR, we see ourselves as a big part of this transformation. We want to completely redefine how brands think of sports sponsorship and put it right at the forefront of digital advertising.
What's Changed?
Most businesses probably think of grassroots sports sponsorship as simple, non-digital advertising opportunities. Often, the decision to sponsor a local team has different motivations to other promotional strategies. Local businesses want to give something back to the community and support the development of grassroots sports. Investing in a local club is seen as a nice thing for local companies to do, but in pure business terms, it can be hard to quantify the value of such sponsorships.
The pace of digital transformation means even small businesses have largely moved on from this kind of advertising. With a small budget and very little time and effort, anyone can set up Google Ads and track precisely how much new business their campaign generated. In contrast, grassroots sports sponsorship might seem completely unquantifiable.
Livestreaming has changed all this. Now, even junior sports clubs can show their games live, build an audience and monetize their content. Grassroots sports sponsorship has gone digital, so brands can run their existing digital ad campaigns, track performance and calculate return on investment, just like any other form of digital advertising.
In some ways, grassroots sports sponsorship is now at the cutting-edge of advertising in sport – partly because pro sports sponsorship is a complicated landscape with many different stakeholders. This creates roadblocks that prevent genuine innovations. At a grassroots level, there are no such roadblocks.
A perfect example of this is one of the features we are most proud of at LIGR: the ability to automatically show an ad following a key moment during a livestream. On LIGR.Live users can configure ads to display after a major event, such as when a goal is scored in a soccer match, as seen in the example below.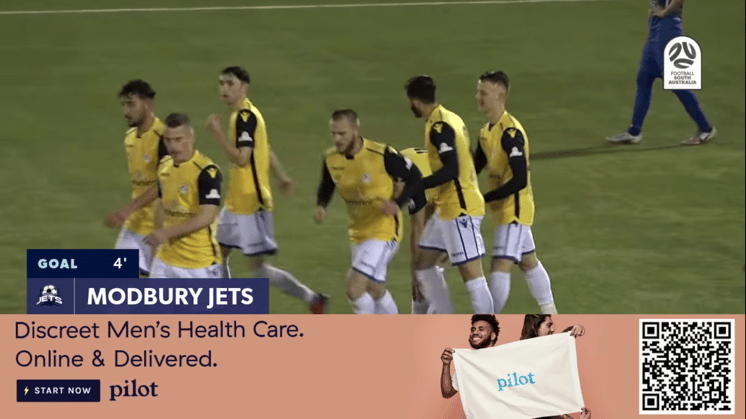 An ad for men's health brand, Pilot, shown immediately after a goal for NPL south team the Modbury Jets. Powered by LIGR.Live.
This ad campaign for Australian men's health company Pilot ran across 200 National Premier League games in Australia. It was hugely significant in the world of sports sponsorship for three reasons:
1. Sponsoring In-Game Moments
Within sport, it's rare for brands to have this level of control over the moment when their ads are shown during a live game. As an advertiser, you want your brand to be on screen at the most important moments during a match. The time just after a goal is the perfect opportunity to show a large ad on screen as viewers are fully engaged, and there's a break in play so it doesn't harm the viewing experience.
3. Fewer Restrictions
Sponsorship isn't just about reaching the audience watching the game. Social networks are saturated with sporting video clips every weekend, and the best go viral, often extending the reach for sponsors way beyond the audience for the live game. For Pilot, this happened when Gold Coast Knights player Mason Cross scored a stunning goal on his debut. Football Queensland's tweet of the goal was seen over a million times.
The Pilot campaign was seen more than 1 million times on Twitter
3. Aggregated Audiences
The Pilot campaign was the first campaign on the LIGR platform – and probably the first in grassroots sports sponsorship – to aggregate audiences across several different sporting organizations and rights holders. Pilot agreed this sponsorship deal directly with LIGR, and we set the campaign up with the various soccer federations. This was possible because seven of the nine state soccer federations in Australia use LIGR for their livestreams. Without LIGR, Pilot would have had to arrange separate sponsorship deals with the different federations. They would also have found it logistically challenging to manage the campaigns and track performance. Because LIGR standardizes advertising across federations, it's much easier to implement, run and track a campaign across an entire sport.
For us, this is just the start. We built LIGR for sporting organizations, but we have big plans for sponsors too. We are currently working on the LIGR Sponsor Network – a self-serve sponsorship platform for businesses. The platform will make it easy for local businesses to find the right club to sponsor and for global brands to run in-stream ad campaigns across entire sports and manage their sponsorships in one place.
If you're interested in running a campaign on the LIGR Sponsor Network pre-launch, you can get in touch with us using the form at the bottom of this page. As with the Pilot campaign, we can arrange sponsorship across an entire region or match your needs with an individual club or association.
Goodwill and Giving Back to the Community
Sponsoring grassroots sport is much more than advertising. It's a mutually beneficial relationship. It shows people that your business cares and that you want to give something back to the community. To find out how sport sponsorship can completely change how people feel about your brand, read the next post in this series: Goodwill and Giving Back to the Community (coming soon).