There's no doubt that online advertising can be a fantastic way for businesses to raise awareness, reach new customers, and boost profits. However, it's difficult to ignore the growing number of businesses that have lost faith in digital advertising.
We believe that grassroots sports sponsorship is not only a viable alternative – but it can offer so much more. Here are six reasons for businesses to make the switch to grassroots sports sponsorship:
1. To Build Strong Relationships with Partners, Customers, and Communities
The defining difference between sponsorship and advertising is the relationship between the two parties involved. With digital advertising, there's hardly any relationship at all.
By definition, a sponsor wants something much more profound. They want to build a real relationship, and they want their customers to see a bond between their business and the sports organization. Advertising is renting space; sponsorship is a starting point for so much more.
Of course, sports sponsorship usually includes some form of advertising, be it as a shirt sponsor, on advertising hoardings, or digital banner ads – but this is just a part of a deeper relationship. One example of this is PayPal's sponsorship of the English Football Association. As the official payments partner of the FA, PayPal used this relationship as a springboard to help solve a major problem in grassroots soccer in the UK: unpaid player fees.
Up to 40% of the match fees players are supposed to pay their club were going unpaid at a grassroots level. PayPal's payment system was integrated into the FA's new app that provides grassroots clubs with powerful team management features.
The FA Matchday App, featuring PayPal payments. Source: https://www.youtube.com/watch?v=z8CxVpDo-N8&t=28s
Players can use the app to pay their fees on their mobile without dealing with cash on matchday. This helped shift the perception of PayPal in the grassroots football community from a functional payments company to a brand that helps make a difference.
2. To Be a Part of Something Real
Digital marketing and social media can dominate marketing strategies to the extent that everything a brand does is now online. Sports sponsorship is an antidote to this problem, as it gives a business the perfect opportunity to do some good in the real world by hosting events that promote health, fitness, or equality.
It's difficult for businesses like insurance companies to develop interesting topics that they can talk about on social media and generate content around. When a business gets behind a minority sport, it's much easier to tell genuine stories and produce appealing video content.
A great example of this is Barclays sponsorship of women's soccer in the UK (more on this here).
The Barclays Girl's Football School Partnership - https://www.youthsporttrust.org/FA-partnerships
3. Fewer Restrictions
When you advertise pretty much anywhere online, the last thing the platform wants you to do is put their logo in your ad. Facebook, Google, and every other major platform state in their terms that it isn't allowed. They will reject any ad that does so. With sponsorship, it's entirely the opposite. The sponsor can get access to the club's assets, players, and brand equity.
With sports sponsorship, your agreement is with the sports organization, so you are usually free to create any kind of campaign you like. You can use the name of the club you sponsor in your ads (as long as the club agrees). You can create promotions that feature the club and offer club merchandise as prizes or freebies.
In Australia, Auswide Bank sponsors Queensland's state rugby league team, Queensland Maroons, a team assembled from all of the clubs' players based in the state to play against arch-rivals New South Wales in the State of Origin series.
As well as being shirt sponsor for the Maroons, Auswide Bank also includes the team's shirts in their advertising, along with the slogan "We're on your team!"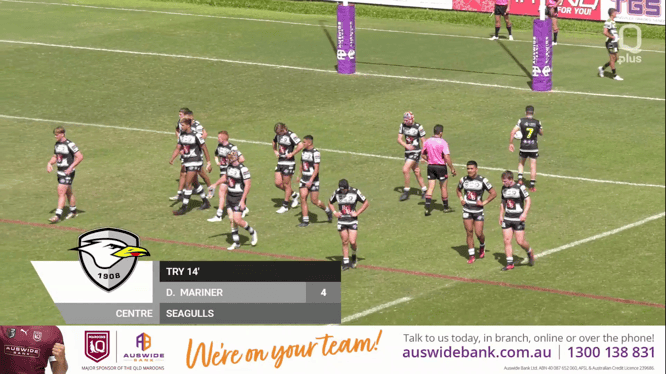 Townsville Blackhawks v Tweed Seagulls in the Intrust Super Cup. Live graphics and in-stream sponsorship powered by LIGR.Live.
This is one of the most powerful tools available to grassroots sports sponsors: to position your business as a supporter of a local team and include recognizable team colors, shirts, and badges in your advertising.
4. To Be More Authentic
Today, businesses have to back up talk with action. Savvy social media users quickly call out brands that try to piggyback on movements without actually supporting the cause in any tangible way.
Sports fans understand that sponsorship is part of a brand's business strategy. However, they still appreciate it when sponsorship funds are used to improve community facilities or give local children and underprivileged groups opportunities to get involved in sport. Sponsors can earn genuine respect for financially supporting a worthy cause.
It's often said that you can't directly measure the benefits of sports sponsorship. It's more than just advertising, and it's not always about an immediate return on investment. The knowledge that your business is doing the right thing and putting money back into the community can even boost the morale of your employees.
5. For Better Transparency and Viewability
When you advertise online, it's impossible to know exactly where your ads are shown or what they are shown next to (or even if they have been seen at all). This is a problem that's becoming increasingly important for advertisers, not just in terms of how this affects their brand image but also how advertising spend can indirectly fund unethical or undesirable organizations.
The annual ad viewability report states that brand risk – the chance of ads being shown next to inappropriate content such as "adult, alcohol, hate speech, illegal downloads, illegal drugs, offensive language and controversial content, and violence" – was 4.2% for all digital advertising in 2020, and as high as 9.9% for mobile web video. The same report says that for most ad formats approximately one-third of all ads are classed as unviewable (this means that the ad was loaded somewhere on a web page, but the user did not see it).
Sports sponsorship is very different, especially at a grassroots level. Everything is fully transparent. Advertisers know exactly where their ads are placed, where their money goes, and 100% of ads are viewable.
6. To Help Close the Gender Gap
The explosion in online sport coverage means that there is now significantly more live women's sport available than ever before.
It makes sense to sponsor women's sport because the same people are watching, yet sponsorship is more affordable. Also, the money can make a huge difference and help to close the gender gap in sport.
Many international brands are now running empowering campaigns featuring strong women, but without grassroots investment, these campaigns are still essentially selling their own products. A better way for brands to show they are committed to gender equality is to sponsor women's sport.
In a post-pandemic world, funding grassroots sports development will be crucial for the survival of many clubs. For ethically-minded brands who want to be seen to be supporting local and progressive issues, it's a perfect fit.
It doesn't always need to be in the form of a hard-hitting campaign with a message. Simply sponsoring women's sport is enough. Senol, an Australian property developer, sponsors the National Premier League Victoria, which includes both the men's and women's games.
Bulleen Lions vs. South Melbourne in the National Premier Leagues Women's. Source: https://www.youtube.com/watch?v=8YJ95uqehFY
Sponsoring a league or association that includes both genders and is committed to raising the profile of the women's game is a fantastic way for small businesses to begin supporting women's sport.
Making the Switch
This isn't really about stopping digital advertising immediately and putting all of your marketing budget into grassroots sports sponsorship. It's about changing the way you think about promoting your brand. Sports sponsorship takes a step back from simply marketing products and services to customers and gives a business a more solid foundation to build a stronger relationship with a community.
Redefining Grassroots Sports Sponsorship
Affordable technology is driving rapid change within lower-level, amateur sports. We see ourselves at the forefront of this transformation, bringing technology to the grassroots game that isn't even available to pro sports sponsors. To find out how your business can take advantage, read the next post in this series: Redefining Grassroots Sports Sponsorship.