Let's face it, tracking can be a boring subject – but don't worry, there isn't a single mention of cookies, databases, or privacy policies in this post!
Tracking is vital for live-stream sport sponsors because, without tracking, it's impossible to tell if an ad campaign is working. As we've mentioned before in this series of posts, the fundamental difference between ads for live-streaming and regular digital banner ads is that you can't click on ads during live-streamed sport – which also means the success of a campaign can be tracked based on clicks.
As an advertising platform, there are two things you can do about this: 1. Nothing; 2. Help your sponsors to be more creative with their tracking and prove that advertising with you is beneficial to their business.
What can LIGR track?
The LIGR platform does track and report on the ads you run during your live streams, but to be 100% clear, this is only one half of the tracking story (and the level of ad tracking and reporting we offer is far beyond anything else available). The LIGR platform tracks which live streams an ad is shown on and how long it's shown. There is a lot more detail available in our reporting, but for the moment, this is the easiest way to understand it.
Our platform cannot track how many people see an ad when watching your stream, as we don't host our users' streams. Typically the stream will be hosted on Facebook, YouTube, or their own website. To complete the other half of the tracking story, ads must be tracked in another way. There are several options: telephone numbers, URLs, discount codes, and QR codes.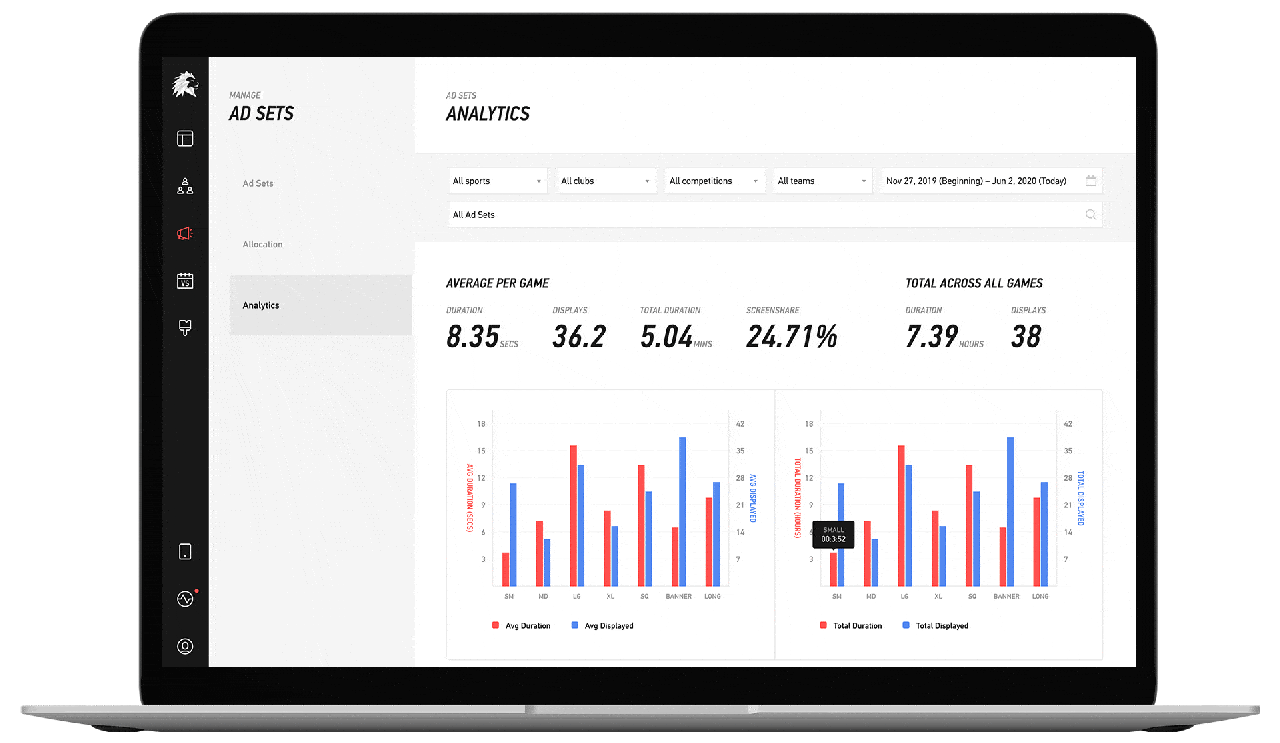 LIGR.Live's powerful analytics dashboard.
Tracking with Telephone Numbers
The most important thing to remember here is that whichever method you choose, it has to be unique to the advertising campaign and platform for the tracking to work correctly. For example, if a business's usual ordering hotline is 555 600 700, they could use another number available on their switchboard, such as 555 600 701. This number would be exclusively used in the ads shown during your live streams and not published elsewhere.
If it's a big business, then they may already be able to log new orders that come in from separate phone numbers. If It's a small business, they can manually log orders that come in on the second telephone number. Even if the sponsor chooses not to log sales, they can see the calls coming in on the alternative number and get a feeling for how many orders are coming in.
Tracking with Discount Codes
By displaying a discount code in ads, a business can easily track how much extra sales are brought in by the campaign. This is great for companies that are primarily online and have an existing online checkout system with discount codes.
Even if a sponsor has this capability, they may not have thought about including a code in the ad. It's up to you to let them know that doing so is very straightforward and a great way to track the performance of ads in live-streamed sport.
An ad for UberEats with a discount code.
For businesses without a website that take orders over the phone, it's still possible to use a discount code. Again, it's essential to use a unique code for the ads shown on your live streams so that any redemption of the code can be correctly attributed. They can include a message like this: "Mention you're a Cubs fan to get 5% off your order". Then the business just needs to keep track of the orders that take advantage of the offer.
Tracking with QR Codes
QR codes are a great way to track performance, as they make it really easy for viewers to scan the code using their smartphone and go straight to the website on their mobile browser. QR codes are relatively new in western countries, but they are very common in Asia, where complicated alphabets can make it hard to enter a URL. Most modern smartphones – including iPhones – now have QR code scanners built into the camera app, so no additional software is needed to use a QR code.
The beauty of QR codes is that standard digital tracking can be used. That makes QR codes perfect for businesses with existing online sales tracking systems.

An ad for a pizza store with a QR code that enables users to install the pizza shops app.
Suppose your sponsor is a small business and entirely new to QR codes. In that case, it's still a good option as there are many free QR code generators out there that can help your sponsors track visitors to a website without any technical knowledge needed.
Tracking with Shortened URLs
Shortened URLs work in a very similar way to QR codes. Instead of scanning, the short URL is typed into their mobile browser; then, users are tracked in the same way. Again there are various URL shortening services available with built-in tracking. They are all very similar and work by redirecting the user to the original long URL. The benefit of using a short URL in an ad campaign is that it's much easier for viewers to type into their mobile browser, and it takes up less room than a QR code, so it can be used in smaller ads. Some URL shortening services allow users to enter custom shortcodes or use a brand name, making it easier for viewers to remember and type.
A Tweet from UberEats that includes a Bitly shortened URL
Tracking with Search Terms
Another creative way to track the performance of a campaign is to ask viewers to Google a particular phrase. If the term is unique or very rarely searched for, it can serve as a tracking system for the ad campaign. For example, the search term could include a new product name that isn't a common word, or the name of the business and a special offer: "Search for 'Crazy Deals at Joe's Autos' for more information." Of course, the advertiser must ensure that their webpage is first on Google ranking for the chosen search term. Using a search term works well for international travel campaigns, for example, "Google 'Visit Japan' now for more information."
Including tracking in a campaign isn't very difficult, but it can have a huge effect on how your sponsors value your ad platform. If a sponsor supplies you with ads that lack tracking, be sure to suggest these options and fully explain the benefits.
What's the difference between selling ad space and offering ad agency services? Looking after your clients. Your work doesn't end the moment your sponsor's ads are up and running. It's essential to continue the dialogue during and after the campaign. To find out more, read: How to Keep Your Sponsors Happy and Retain Their Business (coming soon).