So far in this series of blog posts, we've covered the basics of digital advertising and servicing your sponsors. Now it's time to look at the LIGR platform's more advanced advertising features. When you use the LIGR platform to display ads on your live streams, it means you can offer your sponsors something different from the standard alternatives for small businesses like Google and Facebook ads.
Telling a Story
One of the best features on LIGR.Live is the ability to assign ads to events that happen within a game. You can configure a specific ad to display alongside any in-game event – such as a goal, yellow card, or corner in soccer. This makes it easy to create ads with context.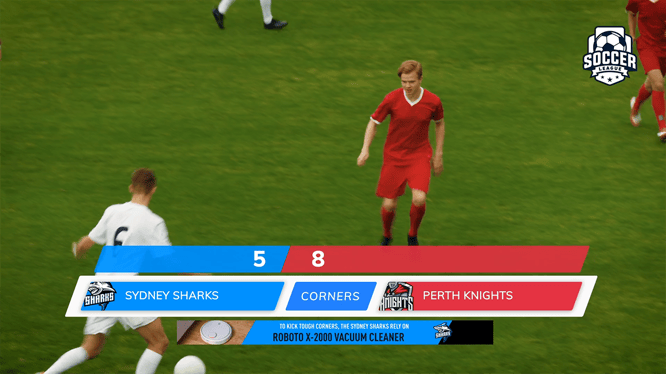 Powered by LIGR.Live. Providing context will improve advertising effectiveness for Sponsors.
It's not as though advertising during live streams wasn't happening before we launched our platform. It's just that it was challenging for grassroots organizations to do well. For most live-streamed sports, "advertising" is just putting sponsors' logos in the corner of the screen. That's not really digital advertising – it's just moving the logos from pitchside to the screen.
Like the example above, this is great for ad campaigns that link the specific in-game event to the message shown in the ad, but it also allows advertisers to tell a story as the game unfolds. If we can show different ads before the game, during the game, and after full time, why just repeat the same messages throughout the match? Why not tell a story across the three ad placements? Telling a story in this way is a unique opportunity for grassroots sport sponsors to create inspiring ad campaigns that make deeper connections with the audience – and it's something that just isn't available on any other advertising medium.
The simplest way to do this is to use messaging that gets more urgent and intense as time passes. For example, a pizza delivery company could leverage the fact that viewers will become progressively more hungry while watching a game (Especially one featuring ads for pizza). The first ad, shown during the game could say, "Order now and your food will be delivered by full time."
LIGR.Live's real-time advertising can relate with viewers based on the duration of the match.
Then at the end of the game, the message could speak directly to those viewers who haven't ordered: "Still hungry? If you'd ordered when we said you'd have your pizza by now." Currently, it's possible to sequence ads in this way using LIGR's manual mode. Soon we plan to roll out this feature for AUTO mode.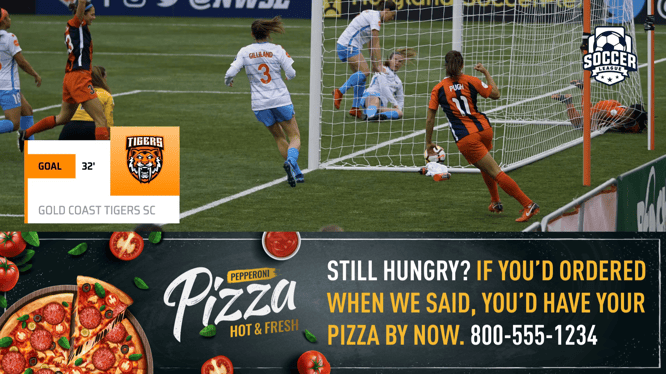 Real-time advertising means that promotional material can stick with the user throughout the match - start, middle or end.
Limited Time Offers
Campaigns always get a better response when the offer is time-limited. If consumers think there's no reason to rush, then they usually just ignore advertising. But if there is a genuine money-saving offer that's only available for a short moment, then people are driven to act. This can be achieved by offering free delivery, a discount, or some special offer whenever a team scores. It's easiest to do this by creating a campaign that uses QR codes to give customers a discount. On the other hand, you can partner with your sponsors and do everything you can to help them succeed. You treat their advertising budget as if it was your own money, and you make it your responsibility to ensure that every cent spent generates a return. The second option isn't just the best way to increase your profits and build a successful advertising business – it's a much more rewarding way to work.
For example, this UberEats ad offers viewers a 20% discount if they scan the QR code in the ad and order food during a live stream:

Another advertising tactic offered on LIGR.Live, limited time offers can relate to the viewer and increase advertising engagement
On the LIGR platform, the above ad can be configured to show at any time during the live stream, while a second ad can be configured to display directly after any team scores a goal. This ad includes a 30% discount offer and shows a different QR code that automatically applies the 30% discount.

LIGR.Live's can create suspense for the viewer in anticipation of a goal, giving them a real monetary incentive to watch the match.
In reality, viewers could scan the 30% code at any time if they took a picture or screen capture of the QR code, but this doesn't matter for the sake of the promotion. All that matters is the brand associates itself with teams scoring goals and the joy that comes with it. For businesses like UberEats that already have QR codes and discount codes set up to use with their app, it takes very little time to set up the additional codes required to deliver this powerful campaign.
Player Endorsements
If it's permitted in your sport, player endorsements are an effective way to boost the performance of your sponsors' campaigns. Endorsements aren't common in non-elite sport, probably because until now putting little-known players in ad campaigns would not have enough mass-market appeal. Now, this has all changed. No matter what level you play at, when you stream your games, the people watching are fans who know and love your players – the perfect audience for player endorsements.
An excellent way to test the water is to offer a player endorsement to your biggest sponsor for a series of games free of charge. Your players might take some convincing, but it could open up the chance for them to earn a cut of the advertising revenue (or get some free products if a deal can be struck with the advertiser). This kind of sponsorship deal hinges on whether player endorsements are allowed, but it's worth exploring as a campaign featuring your star player could be attractive to sponsors. If player endorsements aren't possible, call on the team mascot. You won't have any image rights problems, and your mascot is instantly recognizable to fans young and old.
An endorsement can be as simple as including a stock picture of the player in the ad. Or, you can go as far as conducting a photoshoot and getting a quote from the player about the product or service.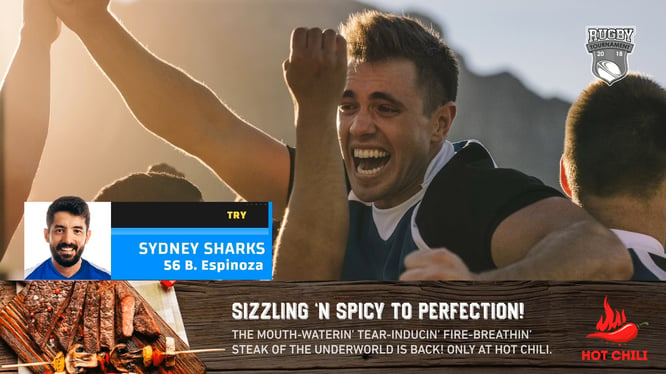 LIGR.Live can capture sponsorship all the way to the individual level - player endorsements are a lucrative channel in the online world.
Testing
It's standard practice in digital advertising to test two or more versions of the same ad campaign to see which one performs best (known as A/B testing). With live streaming, it's not easy to conduct strictly scientific tests to see which ad performs best, but you can run simple tests that will improve results and help you learn what images and messages your audience responds to.
It works like this: Create two almost identical ad sets, changing just one thing – for example, the image. One is called ad A, the other ad B. For one month show ad A during your streams, and the following month show ad B. To track performance, include different QR codes, discount codes, or website URLs on the two different ad designs. After the test, if the response to the campaign was noticeably better for design A or B, then stick with that ad for the rest of the campaign. You can also run more tests with different messages, colours, and other images to further refine the design. The more tests you run, the better the ad will perform. You might be pleasantly surprised by the difference in performance small changes can make. Sometimes a change of image can boost response rates from 0.5% to 5% – that is ten times as effective.
You may not be in a position to use any of these tactics for your sponsors right now, but it's always useful to have something different to show to sponsors when you're trying to secure an advertising deal. If you'd like to learn more about advertising opportunities and how to monetize your live streams, read our Live Streamed Sports & Sponsors series.