Broadcast technologies that are focused on cloud production are leading the way in expanding the possibility of content generation, providing they can maintain quality while reducing cost in skills and hardware.
The world is becoming better connected and bandwidth limitations are becoming less of an issue, this is creating the ideal environment for more and more technologies to make the move to the cloud.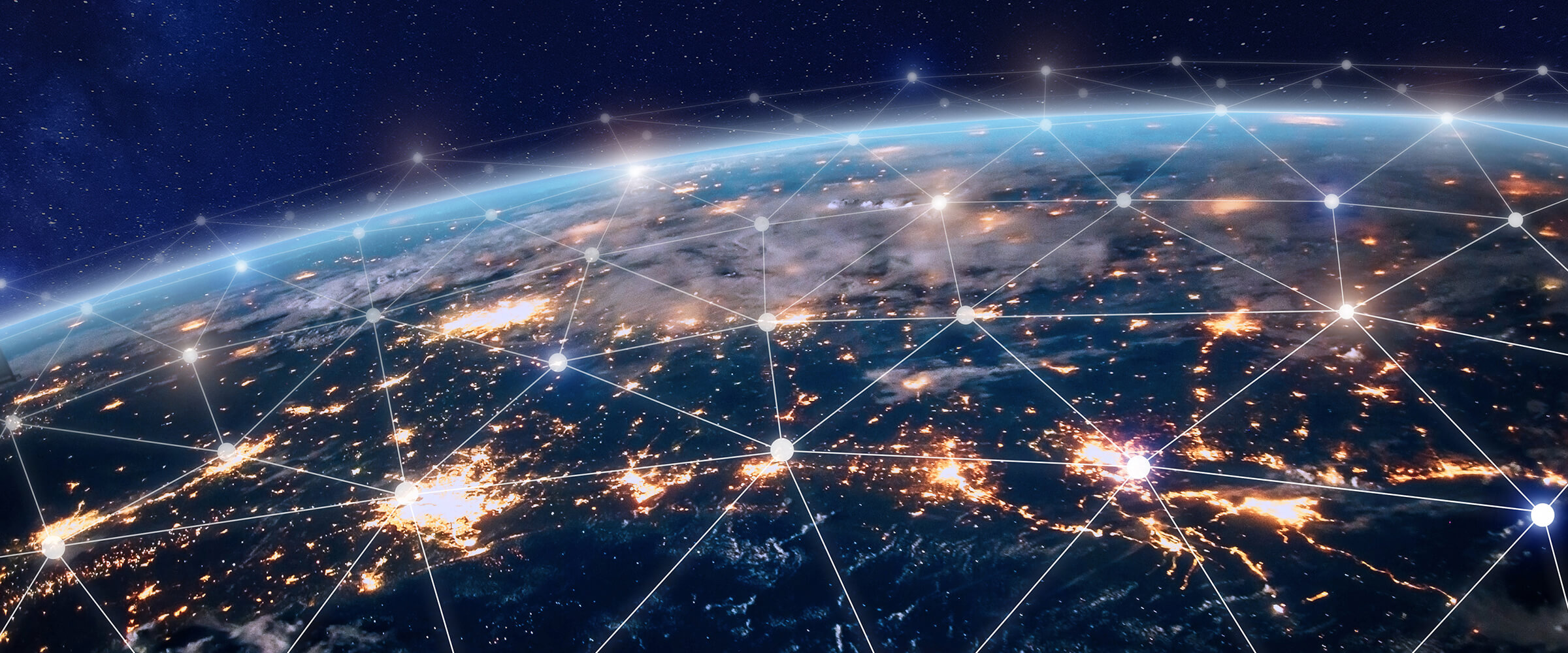 The world is becoming better connected day by day.
Many of the cloud-based video platforms available today have combined the functionalities of a vision mixer and an MCR (Master Control Room) into their platforms, bringing TV level capabilities to live productions of all sizes.
Bringing benefits such as making it much easier to distribute your live content to viewers. Without a cloud-based MCR incorporated into your workflow, delivering content to multiple streaming platforms may look like this: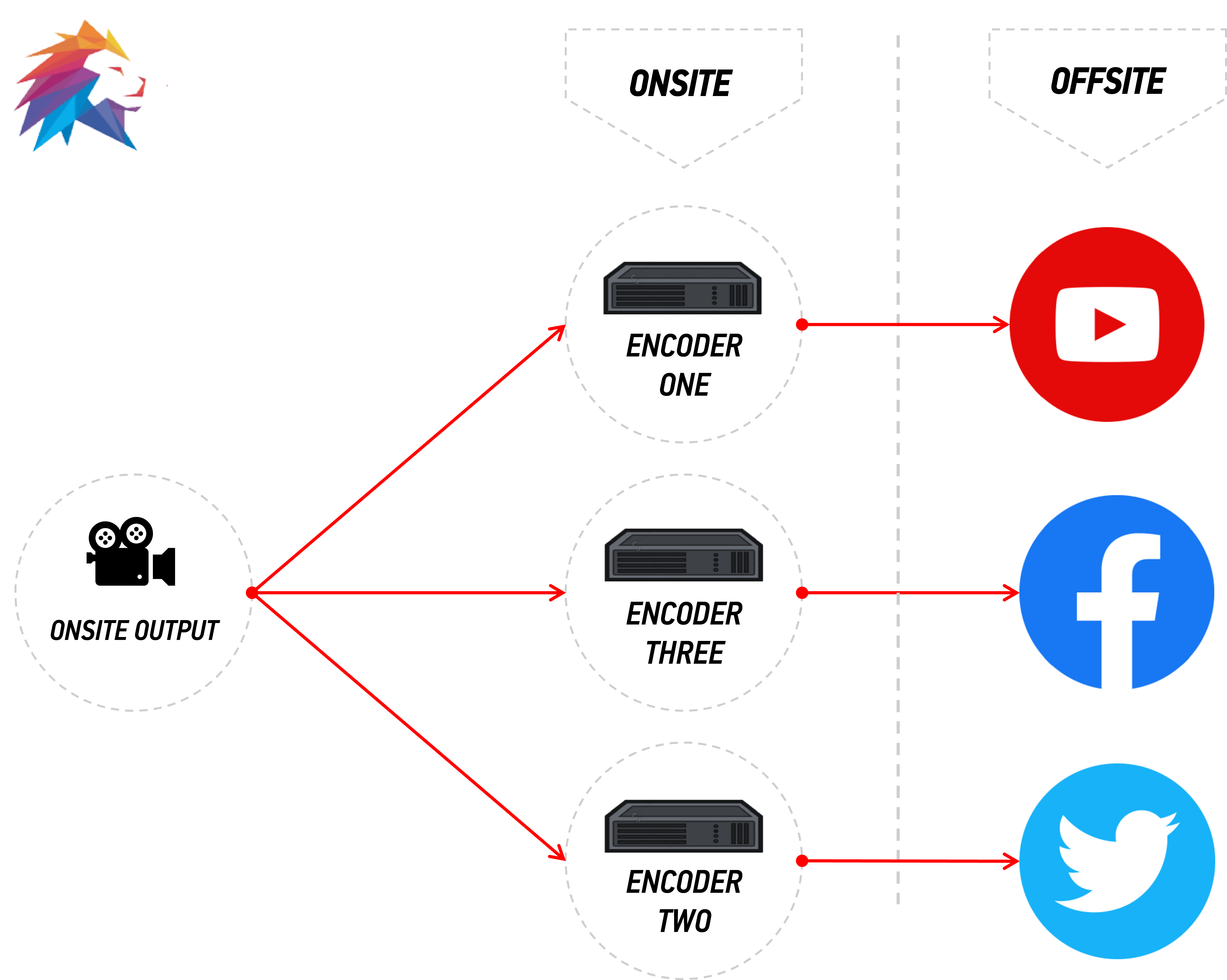 Example of a traditional streaming process to multiple platforms.
Platforms now exist that take one final output from onsite and then from the 'cloud', distributing this stream across the internet to the destinations you specify.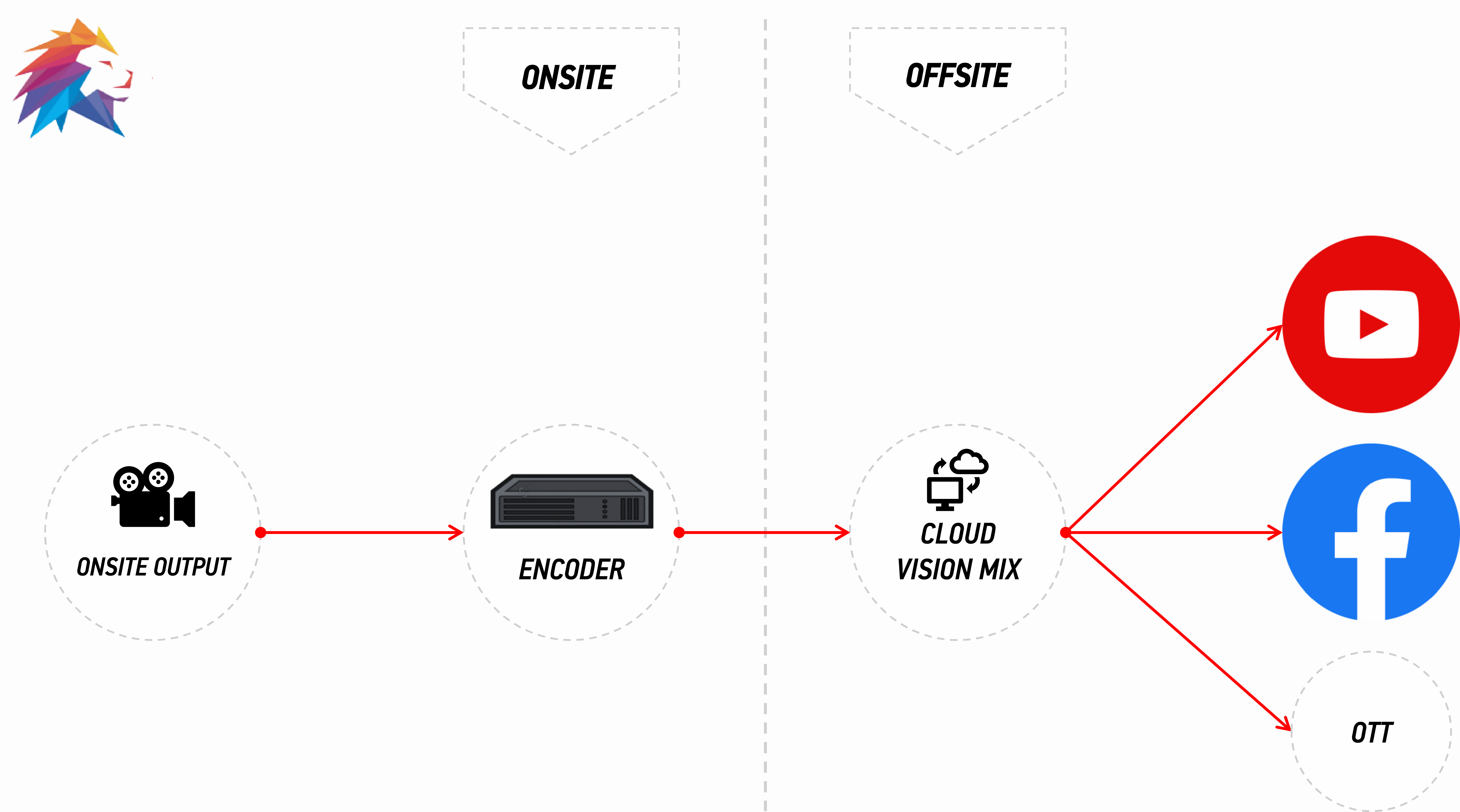 Example of using the cloud to make the streaming process to multiple platforms efficient
Setup times are slashed, bandwidth requirements are reduced, onsite encoding power is reduced to ⅓, and in return costs are significantly reduced.
Cloud-based vision mixers and master control rooms
Cloud-based vision mixers and MCR's are changing the way live sports content is delivered to consumers. These platforms are creating efficiencies only dreamt of by the founding crews of live sports broadcasting.
As talked about in Cloud production workflows and financials, these platforms are creating an onsite production environment with less onsite equipment, resources and costs, by moving resource intensive processes such as: vision mixing and video distribution to the cloud.
Let us introduce you to some of the better-known platforms being used by sporting organisations, production companies and broadcasters around the globe:
As with all product offerings, specific feature-sets can vary, however, most of the above platforms offer the same core features, being
Cloud-based distribution of video - send one feed to multiple platforms
Basic cloud-based vision mixing
Live, cloud-based, video clipping and basic editing functions
Remote audio and commentary
Cloud-based vision mixers and MCRs can be a great way to lower production costs and reach maximum efficiency with your live productions. Reducing bump-in times and compatible expenditure of expensive hardware by moving these functions to the cloud.
100% cloud-based graphics solutions and live scoring apps
It is not just vision mixers making the move to the cloud, we are now seeing other broadcast technologies making the move to the cloud also. In this blog we will talk about 100% cloud-based graphic and live scoring solutions.
Most cloud-based graphics companies have taken the approach of replicating traditional graphics solutions and building a version in the cloud. For traditional production workflows, this allows for a relatively similar process for producing live graphics for live productions. Using these 100% cloud-based graphics solutions will see live productions minimising the amount of hardware required onsite to produce live graphics, as the graphics are rendered in the cloud, in real time.
Companies such as Live Graphic Systems (LIGR) have taken a different approach and have seen the move to the cloud as an opportunity to rethink how live graphics are executed for live sports. With a mission to completely maximise the efficiencies of live sports graphic production by harnessing the power of automation and a templated workflow.
Their focus on automating the live graphics workflow further enhances the efficiencies gained with moving to a remote production workflow. By using LIGR in auto-mode, and scoring the game with their LIGR LiveScore app, you can remove the need for a graphics operator all together, as the data from the LiveScore app is used to drive the live graphics on-screen.
Further to this, LIGR.Live does not require any designers or developers, as their graphics are ready to go out-of-the-box. Choose from a selection of pre-built TV-quality graphics themes and have live sports graphics applied to your broadcast or stream in minutes.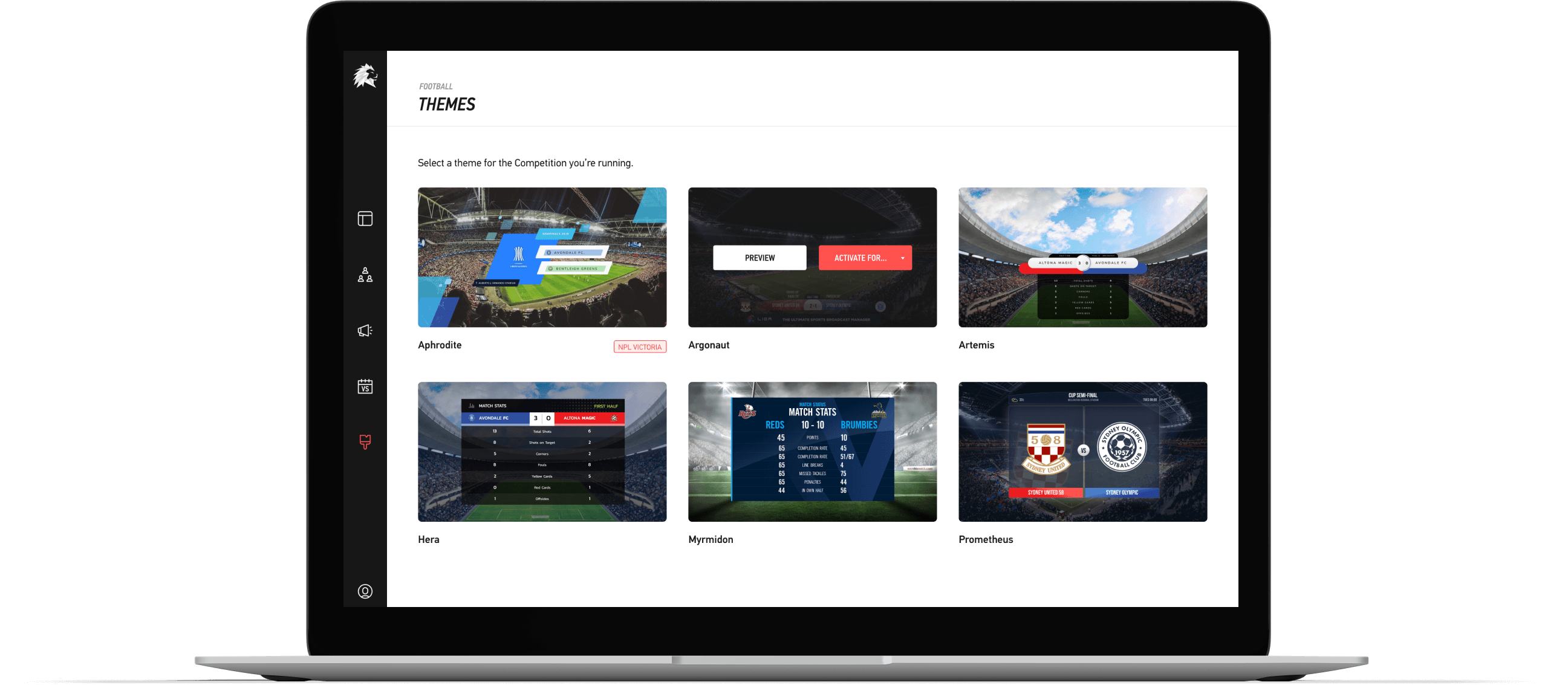 Choose from a large selection of TV-quality, ready-to-go, live graphic themes for your live sports production.
Remote live commentary solutions
Try watching a live sports broadcast or stream without live commentary… It feels like something is missing, the sport on screen has a quietness about it. You can hear a cough of a random person in the crowd or some other random chatter of people who are standing near a microphone at the grounds… Commentary takes the focus away from these sounds by providing entertaining banter and knowledgeable insights on what is happening on the field of play.
Live commentary is another element of live sports broadcasting that is making the move to the cloud. No longer are commentary teams required to be on-site, they can be anywhere in the world. Removing the need for the commentators to travel which in turn reduces the risk of your most entertaining commentators being unavailable and removes the travel costs associated with getting commentators to the sporting ground.
In this blog we will talk about cloud-based live commentary solutions and where they fit in within a remote broadcasting workflow and the "Virtual Sports Stack".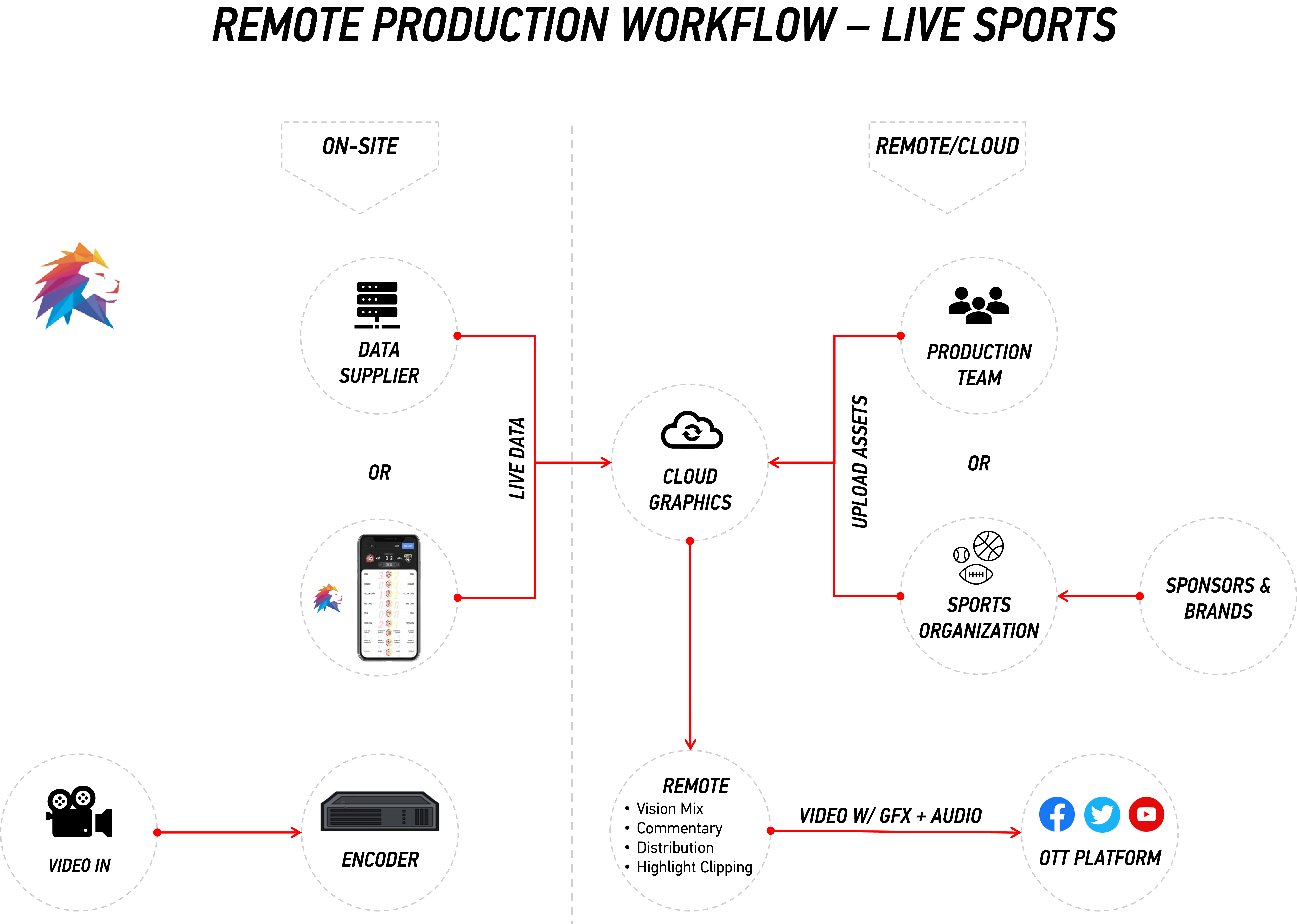 An example of a remote production workflow.
The hardware of the remote, cloud-based workflows
While the cloud is a powerful ecosystem where a lot of supporting technologies of the remote production workflow are hosted, there are still physical onsite elements that are the core of any broadcast, namely the camera and an encoding device.
In this collection of blogs we will talk about the cameras and hardware encoders that work best with remote, cloud-based workflows; offering recommendations and feature sets to look out for when making those purchasing decisions.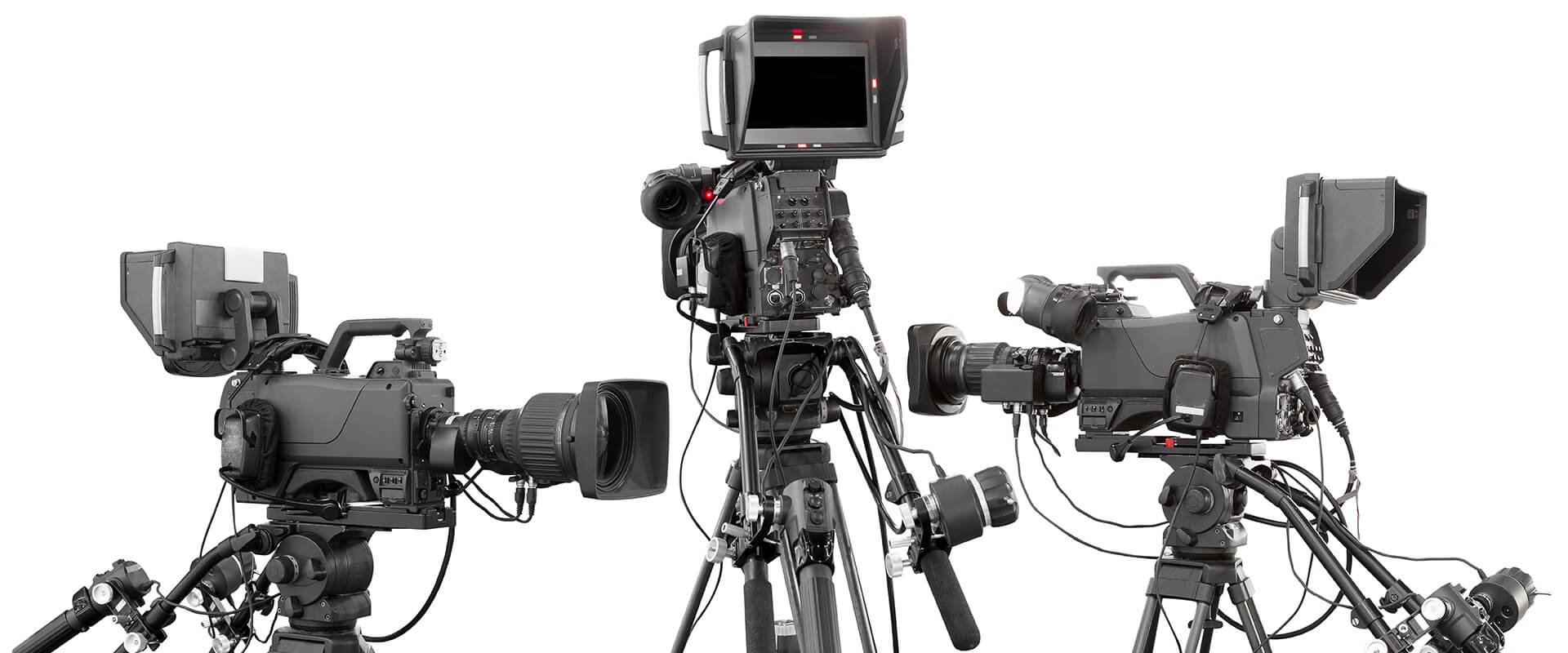 Three broadcast-style cameras on tripods.
And discuss how cloud-based technologies have reduced the amount of hardware required to produce a live sports broadcast, with one-man or woman single-camera setups now more possible than ever.
On top of this, we will compare a complete on-site workflow vs a remote, cloud-based workflow; highlighting the pros and cons of each and how you can pick and choose technologies to create a hybrid workflow, by utilizing the cloud and onsite hardware.
Streaming platforms: feeding the consumers
A live streaming platform or service is a place where you can publish/host your live stream for viewers to be able to watch. There are essentially two types of streaming platforms available today, a social media platform and an OTT streaming platform (or content delivery service).
Live streaming to social media platforms is somewhat of a relatively new feature, allowing non-technical users to go live to potentially billions of people right from the smartphone. However, streaming to social media is not just reserved for the non-technical user, larger organizations have taken advantage of the ability to reach the huge user base of many of these platforms by streaming their content to them.
To list a few of the larger platforms that now support live streaming:

While streaming to social media has many advantages, being mainly, it is free to do so and you can reach many people, it does come at the cost of losing control over who is viewing your content and being able to commercialise your content. This is where an OTT streaming platform comes in.
Essentially, an over-the-top (OTT) service is a way of delivering content to viewers that bypasses traditional delivery methods, such as broadcast television or subscription television and delivers the content directly to the viewer via the internet. Some notable examples of OTT services are Netflix and Disney Plus.
For you as a live streamer, setting up your own OTT service to deliver your live content to viewers can have many notable benefits in comparison to streaming to social media networks. Think of an OTT as your own personal television channel, you control the content, you control who sees it and you control how you fund it; all you need to do is pay for the technology to host your channel.
In this blog we will go deep into the pro's and con's of each streaming platform type, helping you make an informed choice on how to deliver your content to your viewerbase.