LIVE! From the Cloud.
As the world becomes better connected and bandwidth limitations are removed, we are seeing more and more technologies making the move to the cloud.
Vision mixers and MCR's are making this move, with platforms available and ready to use now!
Let's talk about the benefits, the current limitations and generally how these emerging technologies can streamline your workflow, reducing setup times and cutting costs.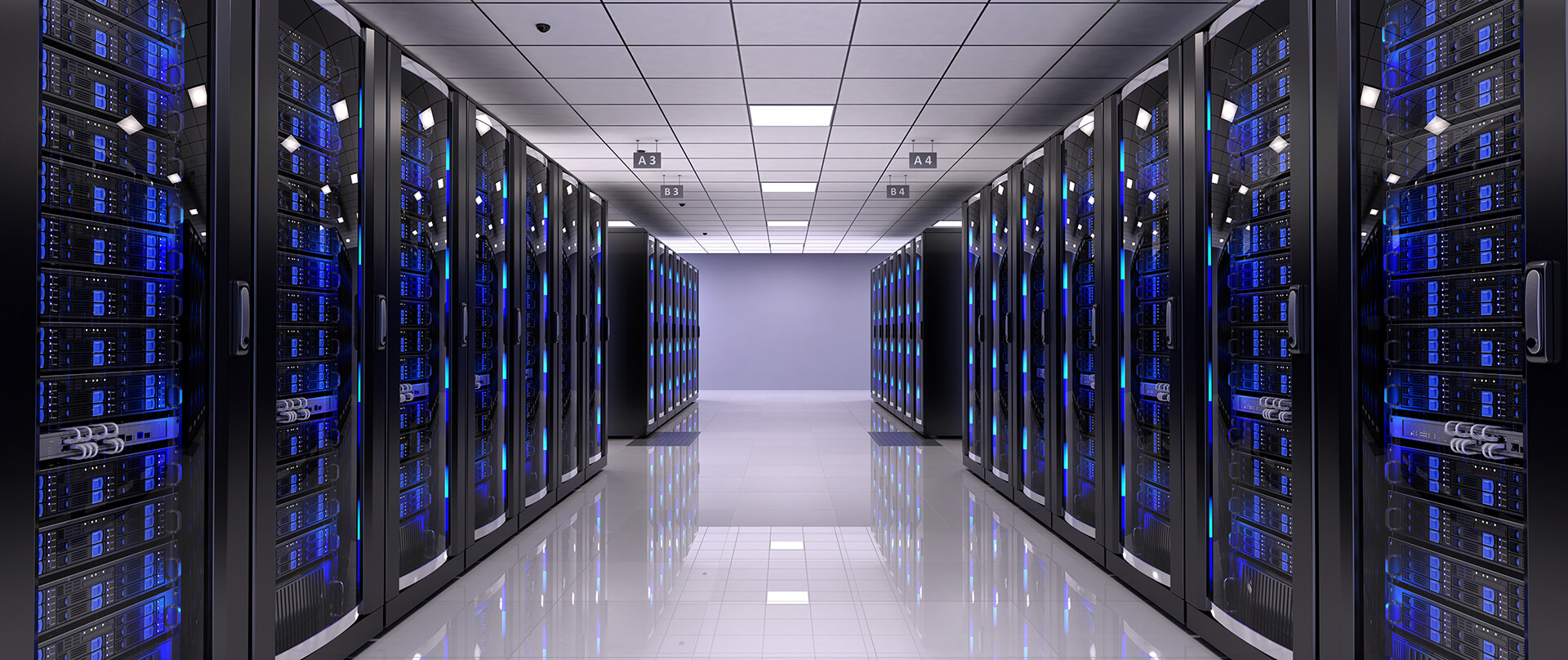 The type of facilities that power cloud-based technologies.
The Benefits
Many of the cloud-based platforms available today have combined the functionalities of a vision mixer and an MCR (Master Control Room) into their platforms, bringing TV level capabilities to live productions of all sizes.
Bandwidth
By far the greatest benefit of the cloud-based MCR (or streaming distribution platform) is the cut-down in bandwidth required to distribute your content to multiple platforms.
In the past, a common way to deliver a live stream to multiple destinations would be to send multiple streams from onsite to each streaming platform you want to deliver your stream to. This workflow would look something like this: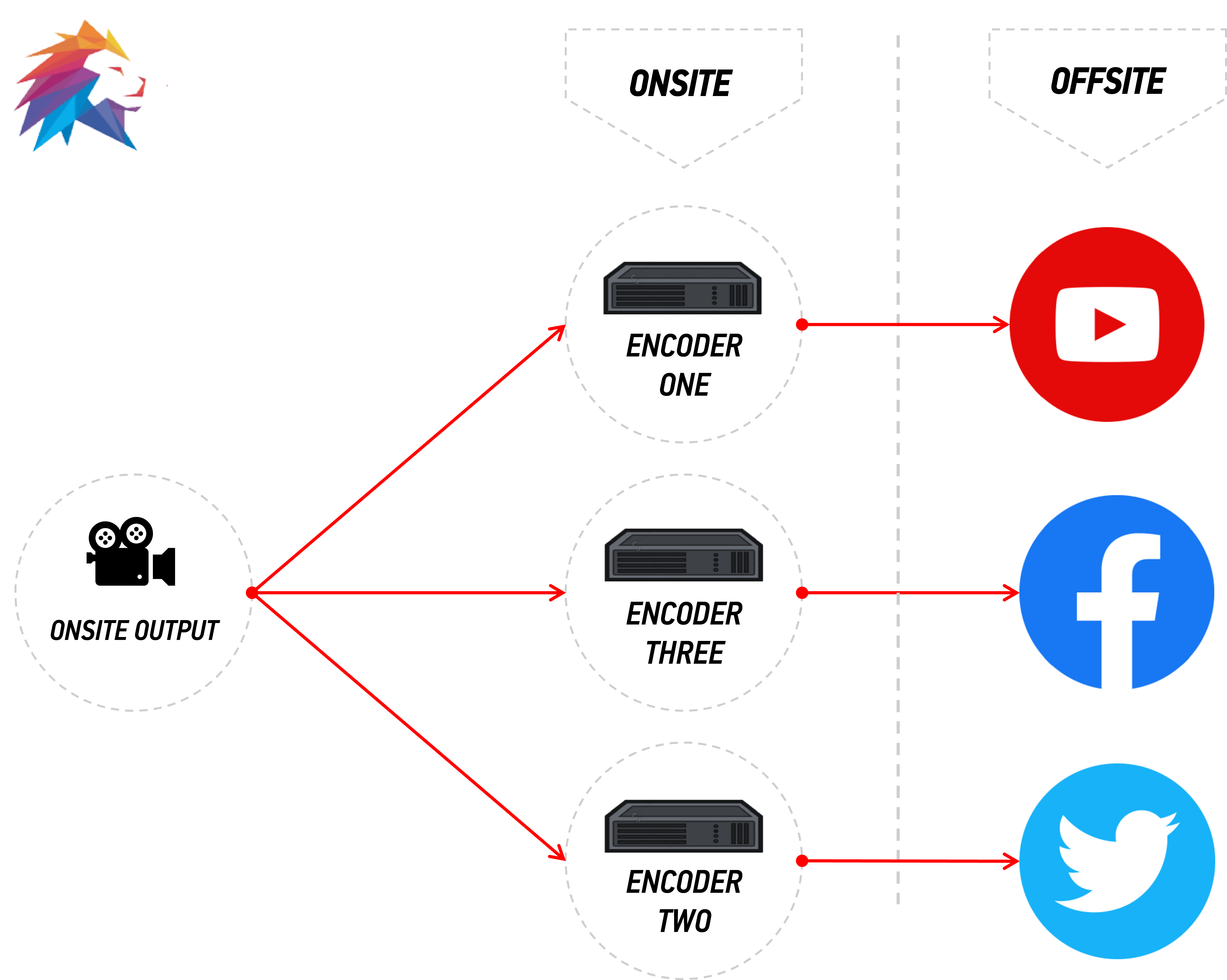 A simple diagram of a traditional workflow, distributing a single feed to 3 seperate platforms.
You may be familiar with this issue, it can be a problematic, bandwidth-intensive process that can deliver lacklustre results.
Nowadays platforms exist that solve this issue, by taking one single stream from onsite and then from the 'cloud', distributing this stream across the internet to the destinations you specify.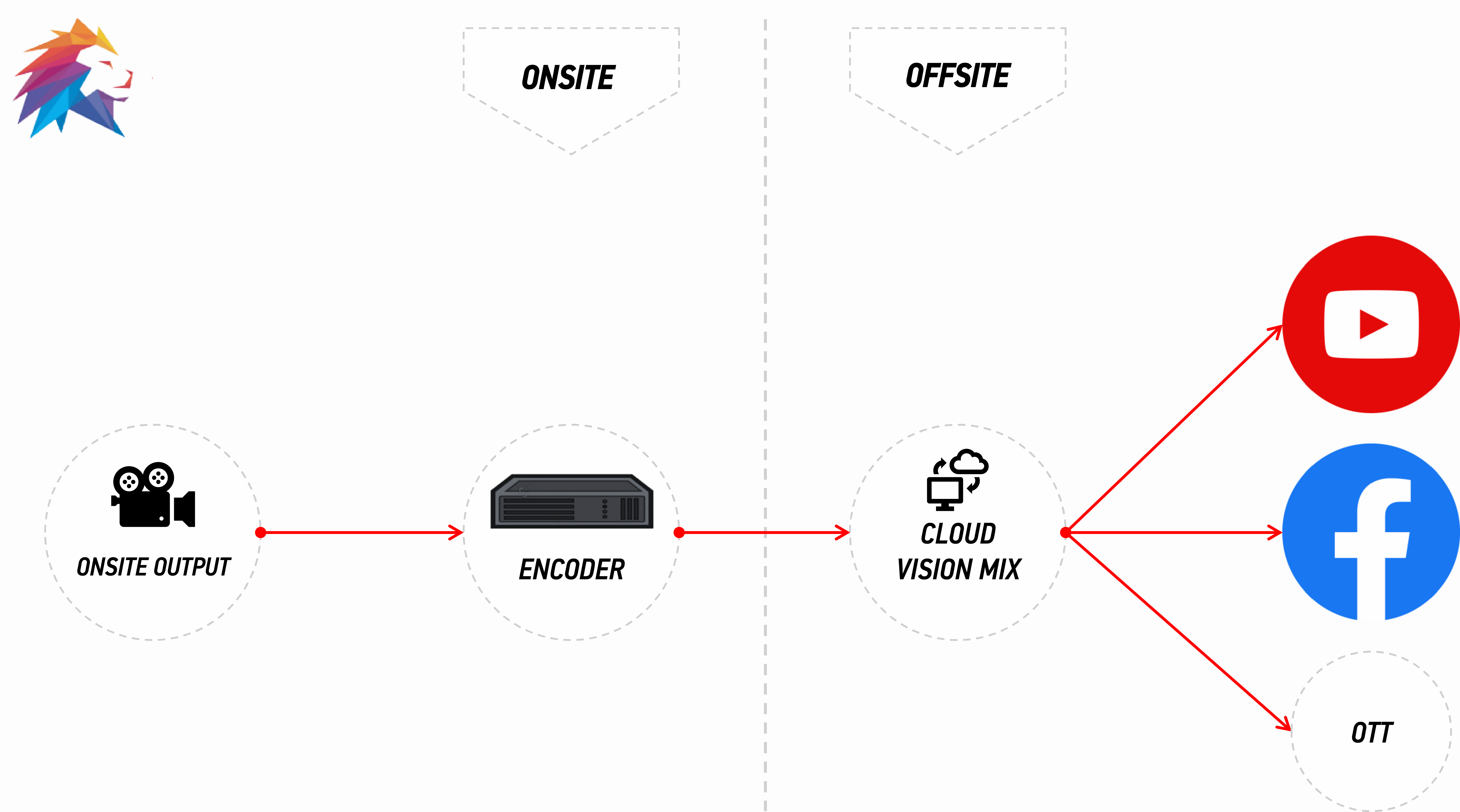 A simple diagram of a remote, cloud-based workflow, distributing a single feed to 3 seperate platforms.
Along with significant improvements in hardware encoders, these cloud-based platforms significantly improve the quality of live content for viewers, while making your life easier. In the workflow example above, you can see that we have gone from three encoders to one, with the cloud-based platform delivering our stream to the same destinations as before.
Cutting Down On Hardware
Another significant benefit of most of these platforms is the ability to remove large, clunky, hardware vision mixers and processing devices from simple onsite productions.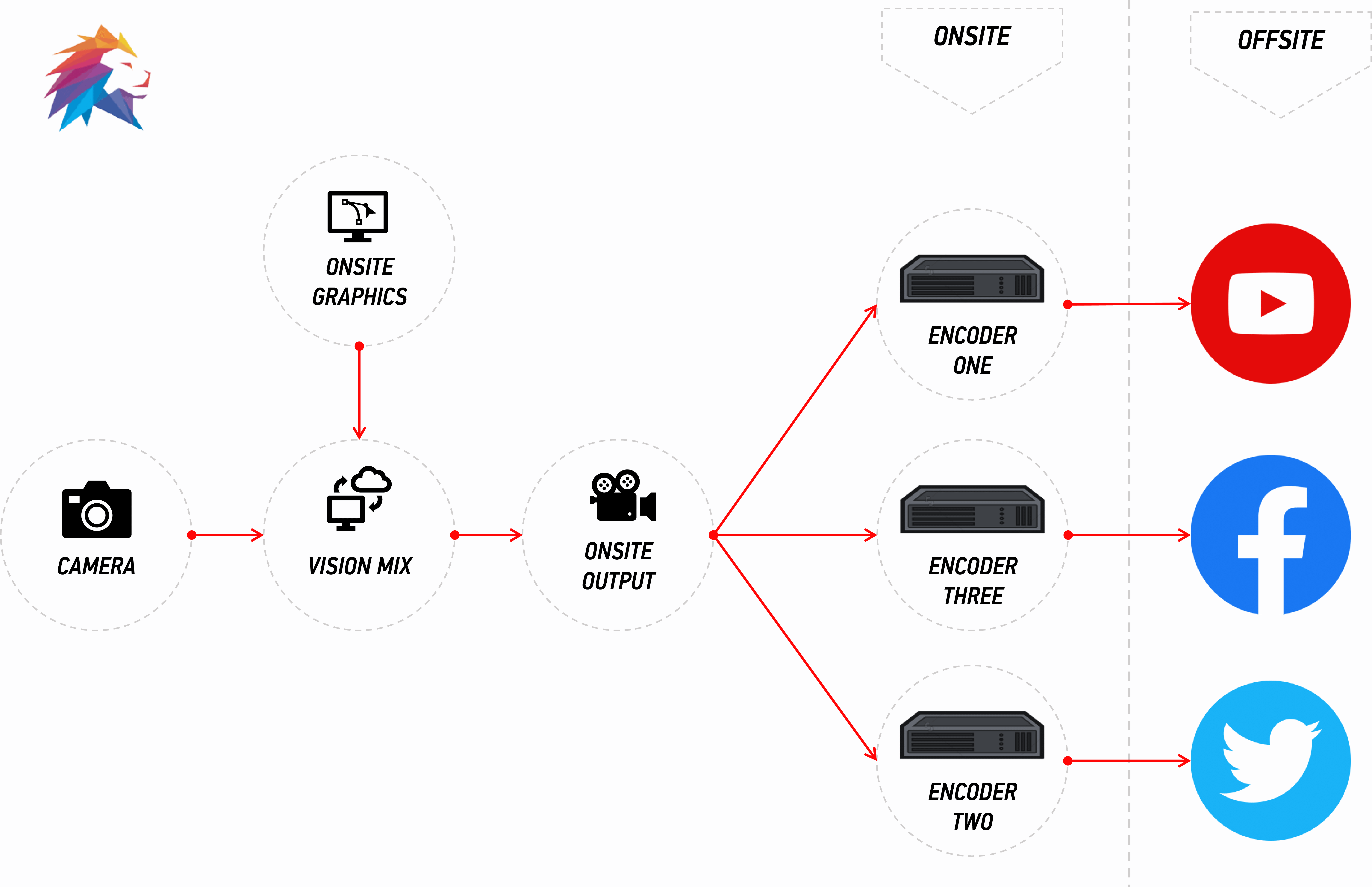 A simple diagram of a traditional workflow, that needs live graphics applied, before being sent to 3 platforms.
Armed with ONLY a camera and a hardware encoder onsite, you can send this clean video feed to the cloud and add live graphics and watermarks with LIGR.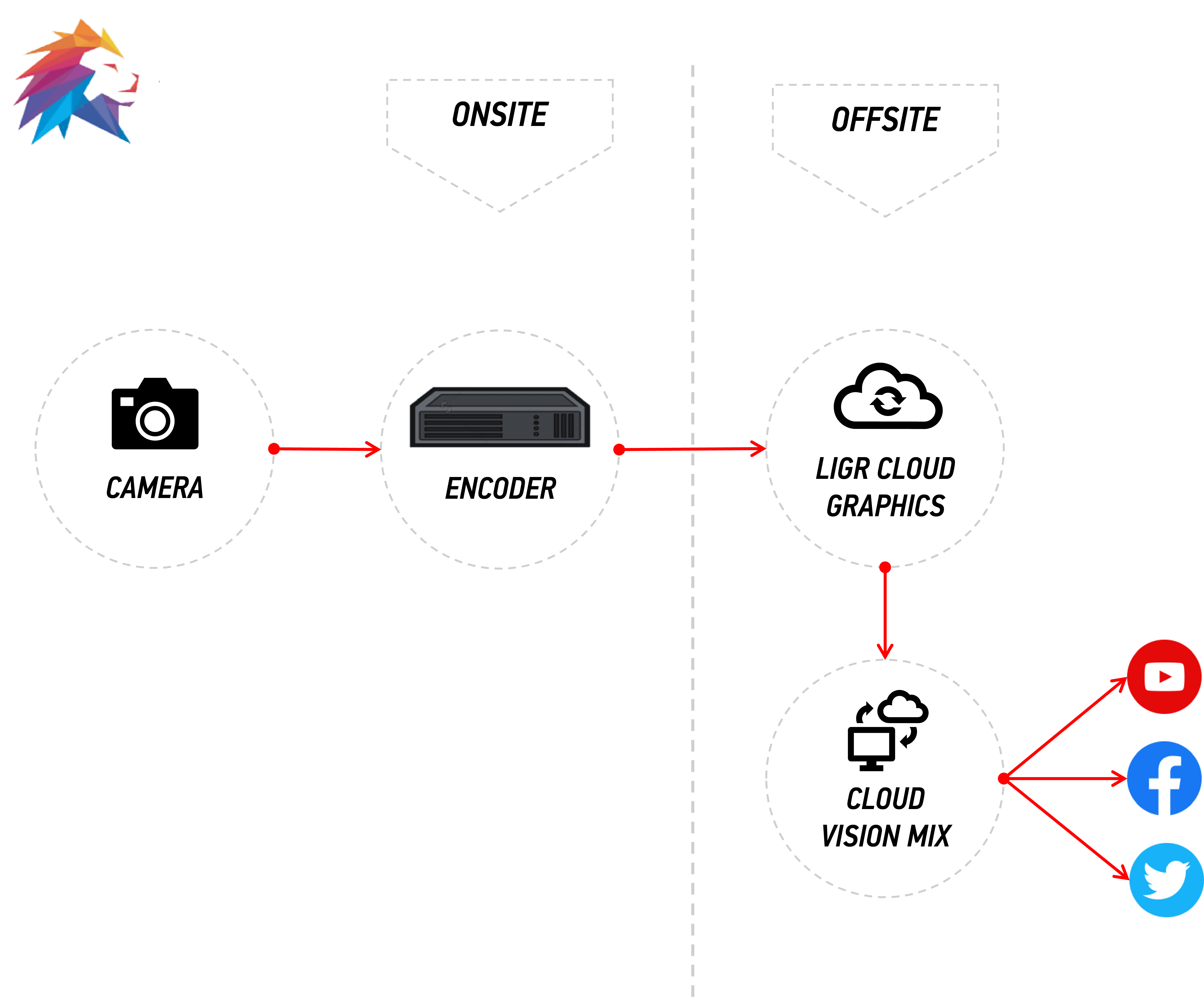 A simple diagram of a remote, cloud-based workflow, that needs live graphics applied, before being sent to 3 platforms.
Setup times are slashed, costs are significantly reduced and best of all, no more learning complicated vision mixers just to achieve simple tasks.
The encoder will take our vision from our single onsite camera (or multiple cameras for larger productions) and send this to our cloud-based vision mixer, to be mixed into the final output (graphics applied etc.) before being sent to the viewer directly from the cloud.
A vision mixer in the cloud fundamentally functions the same as a physical, onsite vision mixer. The main difference is how it receives/accesses its vision sources and how you access the control surface.
The internet - the backbone of any live stream, and also the gateway to anything located in the 'cloud'. Compared to onsite hardware, where assets are stored on physical drives on-site, cloud-based tech hosts everything in the cloud (offsite). All of the content that needs to be played out on your live stream needs to be located in the cloud, and this is easily achievable via simple upload methods the platforms offer.
An additional benefit to having all of your assets in the cloud is redundancy - no more faulty hard drives or forgetting to bring drives along; upload everything before game day and have it available instantly for input into your live stream.
The Limitations
With all the benefits that cloud-based platforms can offer to your live streaming workflow, unfortunately for some productions they cannot replace all traditional equipment.
Multi-Camera Productions
While it is technically possible to send all camera feeds to the cloud and switch between those feeds in the cloud, in most cases, the economics of doing so would make the process much less viable than just sending all cameras feeds to an onsite vision mixer.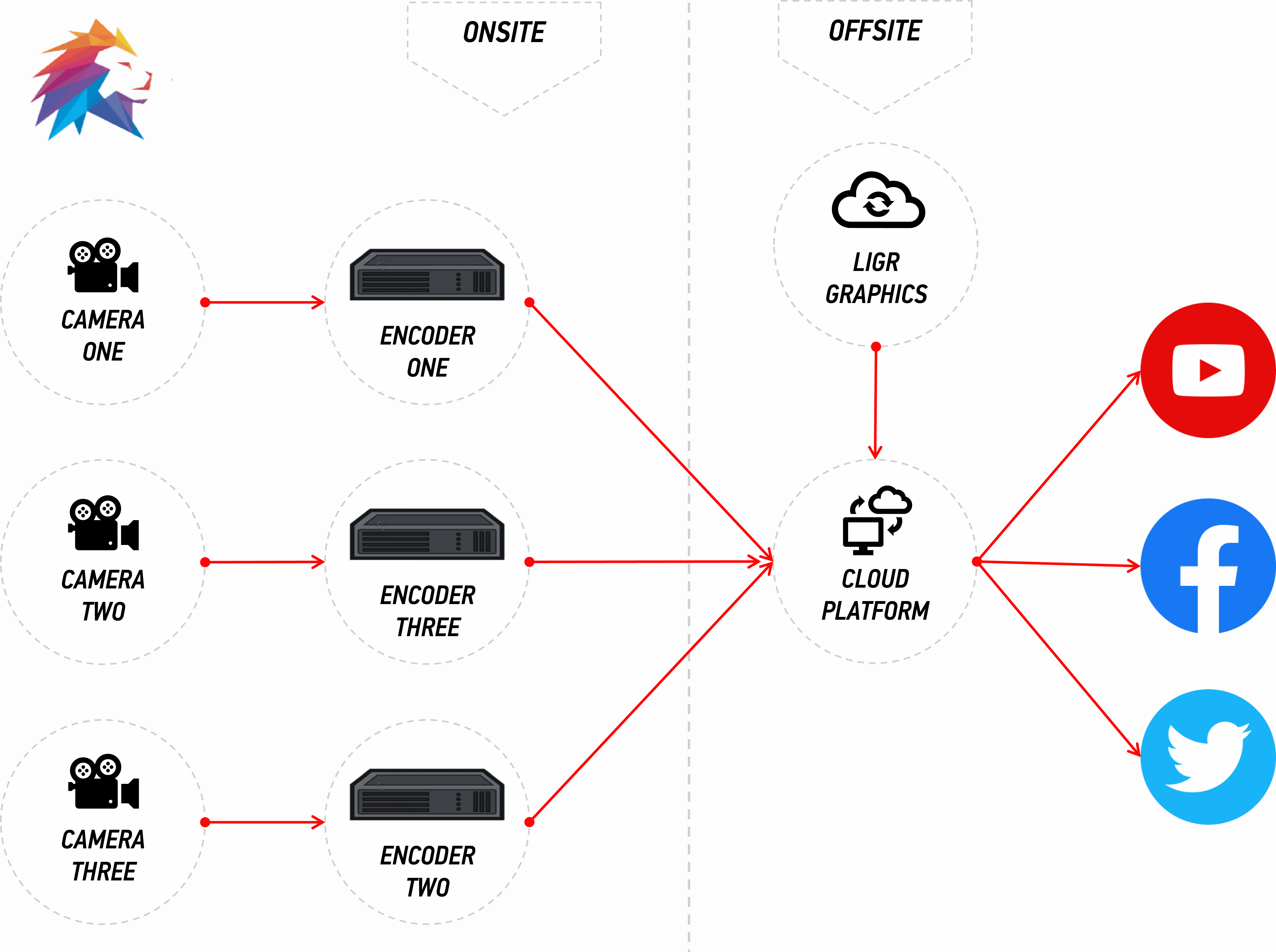 An example of what would be involved in sending each camera to the cloud separately.
Okay, so, sending each camera to the cloud may not be via for multi-camera productions, however, the cloud can still help!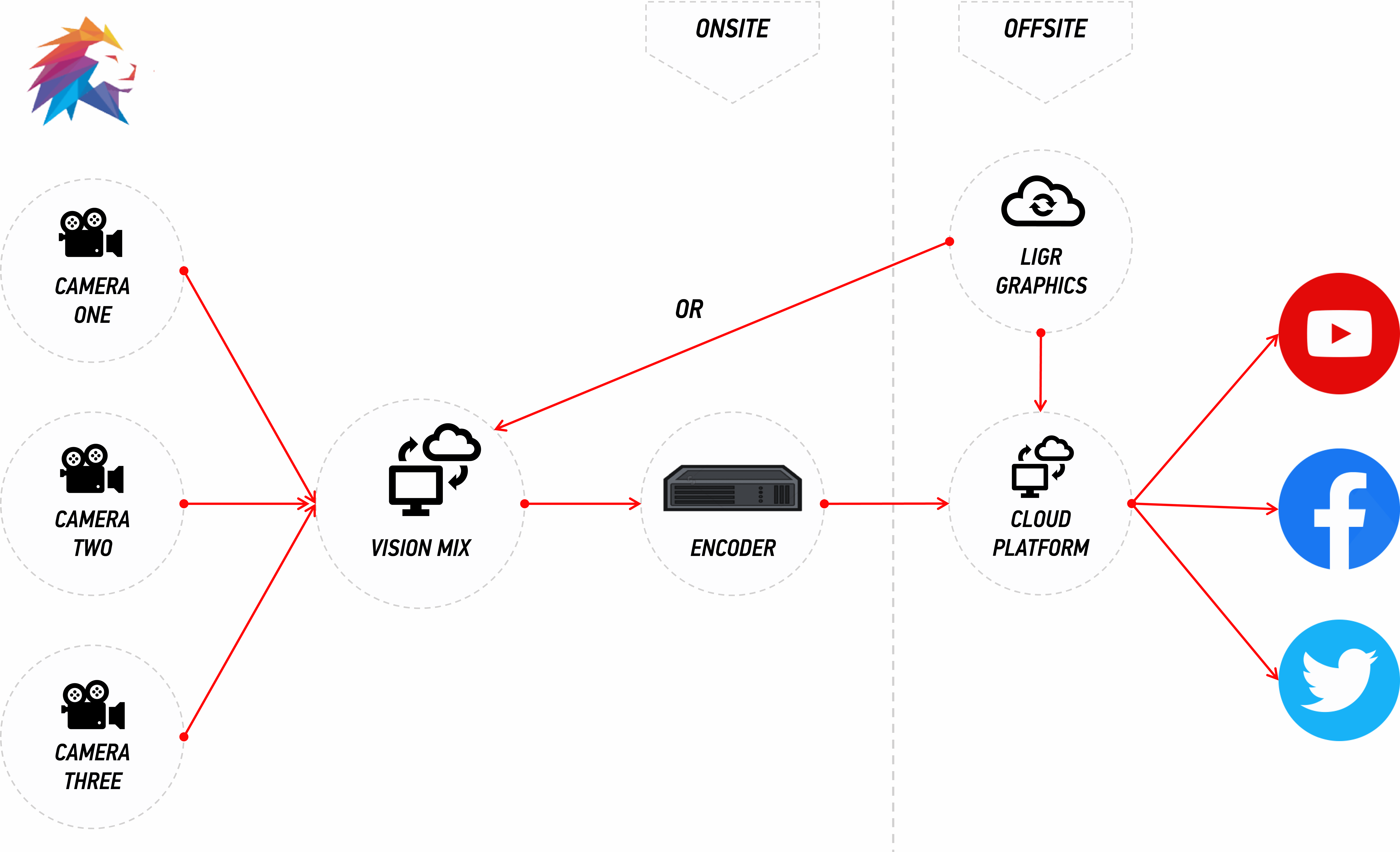 Using the cloud to make multi-camera productions more efficient. By lowering the need for on-site bandwidth.
Mix your cameras on-site, send a single feed to the cloud and then let the cloud distribute the feed to the platforms it needs to be delivered to. You also have the option to either apply your live graphics on-site or in the cloud.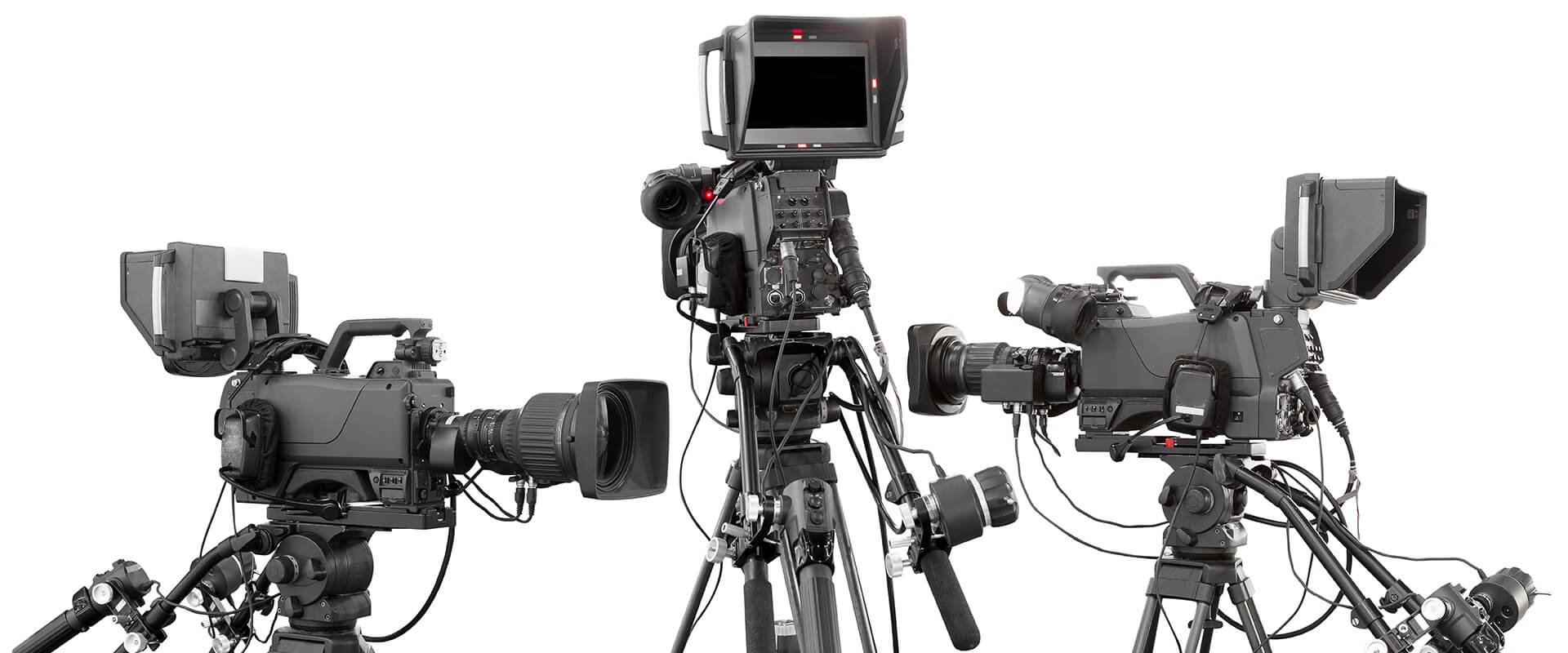 Three broadcast-style cameras on tripods.
The Platforms
As with any emerging technology, new platforms are popping up all the time. Here are some of the better-known platforms being used by sporting organisations, production companies and broadcasters around the globe:
As with all product offerings, specific feature-sets can vary, however, most of the above platforms offer the same core features, being:
Cloud-based distribution of video - send one feed to multiple platforms*
Basic cloud-based vision mixing*
Live, cloud-based, video clipping and basic editing functions*
Remote audio and commentary*
*Check with each platform to confirm what exact features are on offer.
In conclusion, cloud-based vision mixers and MCRs can be a great way to lower production costs and reach maximum efficiency with your live productions. Reducing bump-in times and compatible expenditure of expensive hardware by moving these functions to the cloud.
If you'd like to read more about remote production workflows, take a look at our previous blog in this series where we compare a traditional workflow to a remote, cloud-based workflow.
Coming next in our remote series: we talk about cloud-based graphics and live scoring solutions.