A brief history
Live graphics or broadcast graphics are a type of motion graphic that is produced in real-time. This type of graphic is used frequently across live broadcast television and is generated with a system called a character generator (CG).
Historically
character generators
(CG) were a sophisticated device that produced rather simple results. Early systems were developed in-house by large broadcasters (such as the
BBC
in UK and
CBS
in USA), to meet their own specific needs.
Today's traditional workflow
Nowadays, broadcasters no longer use proprietary internal technologies; instead, they enlist the products and services of companies that specialise in live graphics hardware/software and broadcast designers that build the graphics in said products.
These graphic technology providers offer a suite of highly advanced products to achieve the results desired by TV networks and broadcasters. Because of the advanced nature of these products, television professionals usually require intense training on how these companies' technology works. Some professionals even specialise in particular software from one single company, where their title may directly reflect what their specialisation is, for example, Viz Broadcast Designer.
In the case of a Viz Broadcast Designer - the term "Viz" in their title refers to a company called "Vizrt", a large company that supplies live graphics technology for television (more on them later). "Broadcast Designer" is the generic title for a person that simply creates graphics for television. The terms together suggest that the broadcast designer specialises in creating graphics for television within Vizrt's systems.
Vizrt is not the only company that develops graphics technologies for the television industry. Many companies large and small occupy the live TV graphics technology space, all with competing technologies built upon the same fundamental workflows.
The people and processes involved in getting a live TV graphics package to air: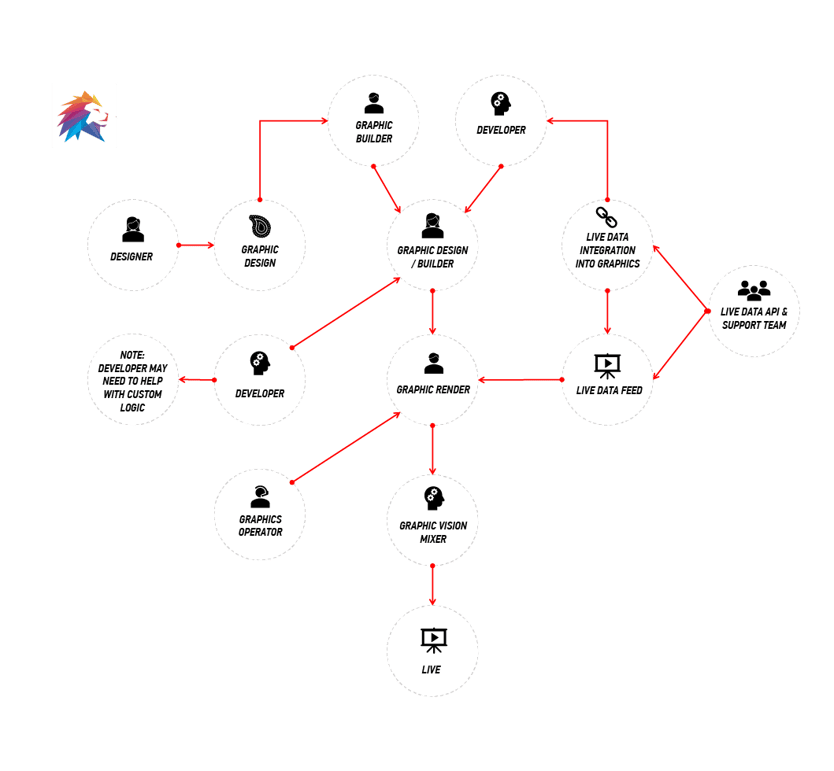 Some large companies that develop competing technologies to service the need for television graphics include:
---
Vizrt has been a television industry technology provider of graphics and TV automation solutions for the past 23 years. With a large footprint across many TV networks around the globe - there is a high chance that Vizrt has something to do with many of the live broadcasts you have seen on TV. Vizrt products include software that create single workflow solutions, real-time 3D graphics and maps and media asset management for the sports broadcast industry.
---
ChyronHego (formely known as Chyron or Chiron) is known as somewhat of a pioneer of broadcast graphics, with origins of their technology stretching as far back as 1966. It is one of the most recognized companies in creation of broadcast graphics, playout, and real-time data visualization offering a wide variety of products and software. To emphasize on this, Chyron is so ingrained into the television industry that to some professionals, live on air lower-third graphics are simply referred to as a "Chryon".
---

Well-known for their audio composing software: Pro Tools and their industry standard non-linear editing software: Media Composer - Avid is a popular technology provider for the TV and entertainment industry that has been around for many years.
Maestro is their suite of broadcast graphics software - powering broadcast graphics across television globally.
---

Ross, a Canadian company founded in the 1970's is a supplier of both hardware and software for live TV and events. Ross is best known for their hardware, manufacturing equipment for all facets of television production.
Xpression is their main line of graphics products, usually sold as a hardware/software bundle at the time of writing.
---
These companies' technologies can all usually produce comparable results when it comes to standard on-air graphics - dependent on the expertise of the professional using the technology. Some limitations and differences may be observed across the technologies when it comes to producing more complex graphics such as augmented and virtual reality graphics - to name a couple.
The technologies that these companies develop have been responsible for some of the most impressive live graphics results in live TV to date and they have laid the foundations for what is the industry standard of live graphics capability for live productions. However, the results always come at the expense of complexity and of course, monetary cost.
Why TV graphics solutions are ineffective in a new era of live streaming and OTT
Live broadcast is expensive and requires a specialist skillset from many that work in the industry. Live graphics is an area of broadcast where that problem is exacerbated, with expensive, sophisticated hardware/software that requires highly skilled teams of people to produce the necessary graphics.
While these products are great for the well-funded television productions they serve, they do not translate very well into the live streaming world, for a few reasons:
Cost
It is by far the most significant contributing factor to these products being denied access to the live streaming world. Many of the solutions from these companies cost many thousands of dollars and that is just for the software/hardware cost, it is not factoring the cost of specialist staff to operate the products.
Resources (Staff)
While these products can produce some awe-inspiring results, this does come at the cost of complexity and complex software requires highly skilled professionals to operate. These products are not easy to use and professionals may spend months to years learning only the fundamentals of the products and hence, it may take multiple years to gain an advanced understanding of the products.
Time
The world of live streaming is an agile environment - teams are small, and projects move fast! Again, this severely goes against traditional television workflows. Productions in the live streaming world do not have time to learn sophisticated software or take the time required to build graphics packages within the software.
OTT (Over-The-Top)
OTT media service is the practice of streaming content to customers via a high-speed internet connection. One great feature of OTT platform is the ability to deliver much content to its viewers. It has an edge over the traditional linear broadcast as it will bypass media distribution channels such as cable television providers and telecommunication networks. On the other hand, linear broadcast is a channel that a viewer would receive via free-to-air, cable, or satellite television. The disadvantages of using this channel is in the complexity involved in operating it, purchasing of expensive transmission equipment and the cost required in licensing of frequencies.
Streaming OTT requires a vertically integrated technology that is scalable and reproduce at a more improved cost system. This means that more contents are accessible at a cheaper cost. Significantly, OTT is a new technology that opens new supply channel to market that has a surplus demand which in this case is the live sports being played. However, this technology must be scalable such that it supplies service that meets the enormous demand. Traditional graphics solutions do not possess these features and are not ready to fill the rapid expansion of live content and the supply and demand economic model that OTT platforms provide.

Graphics in live streaming:
Producing live graphics for streaming within the budgetary constraints that surround this medium has always been a feat achieved with some good ole fashioned improvisation. Vision mixers have always provided some basic functionality to allow for in-stream graphics. In the early days of live streaming, resourceful operators would capitalize on these basic functions to achieve some rather impressive live graphic results with the limited resources available.
As live streaming grew in popularity, the biggest users of software visions mixers are live streamers. The companies that developed these vision mixers moved to fill this gap in live graphics capability by building live graphics builders and engines within their vision mixing software.
Vision mixers has fueled the development of standalone graphics solutions for live streaming, with some allowing for the complexity of TV within reach of a live stream budget.
---

vMix is a software based vision mixer developed by StudioCoast PTY LTD in 2009. This software allows you to create dynamic live productions. It allows you to input cameras, videos, music, titles, streams, PowerPoint, replays into your production that you can then display on large screens, record, and stream.
It has the ability to integrate with a 4K video production software solution which permit you create quality graphic production at a cost much lower than the traditional video production workflows.
---

Open Broadcaster Software (OBS) is a free and open source software package that has been in operation since 2012 for recoding and live streaming. Due to its increasing popularity, it is now referred to as OBS studio. OBS will encode a live video feed into the appropriate format for streaming through OVP (Online Video Platform) and it can be operated from any type of computer.
---

NewTek Tricaster is a video tool that helps deliver quality content to its viewers easily and comfortably. This software is owned by NewTek, Inc. which have been acquired by Vizrt on April, 2019. The whole package gives you the tools every video into an artistic masterpiece and make even the smallest presentation captivate viewers' attention.
---
The functionality of these solutions has been mostly inspired by traditional broadcast graphics workflows, in the sense of - there is a graphics build process (sometimes fast-tracked by pre-built templates), then a manual operator required to operate the graphics when live. Below are the common solutions in the industry.
Let check out some of these solutions.
---


Singular. Live is an advanced interactive digital overlay platform for any broadcaster who wants their content more engaging and captivating to viewers. Singular has been serving the industry for the past 6 years as it allows user to create broadcast-quality overlays from a web browser. Singular is a cloud-based platform that can be only be accessed online. The platform can burn the live video in real time and can be updated at any time.
---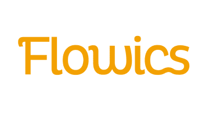 Flowics is a graphic tools used by streamers, content creator, and broadcasters to create quality content that captivates, retain viewers so as to monetize across all digital environments. Flowics's SaaS platform features a unified dashboard that bridges the gap between digital and broadcast teams by managing and measuring all audience engagement and monetization initiatives. It is used by professionals because of its ability to create engaging visual experiences live graphic production.
---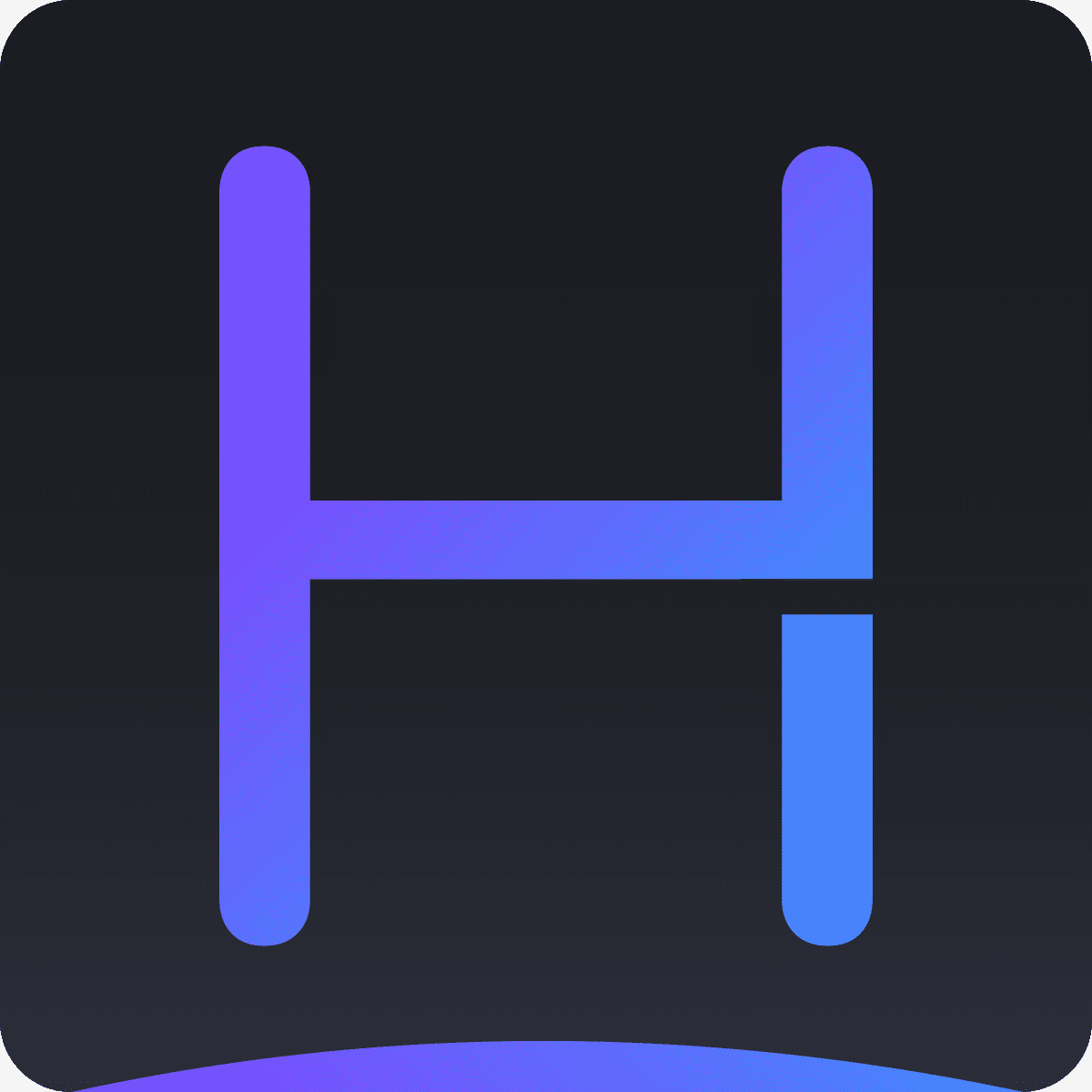 Holographics is an application that was launched in 2019 by Stream my Event. This application can be integrated with the popular vision mixers including vMix, OBS and others supporting HTML overlay. Holographics gives room for industry-standard key and fill output to video switchers including Grass Valley, For-A, Blackmagic and other Vendors.
---
A traditional live graphics workflow consists of: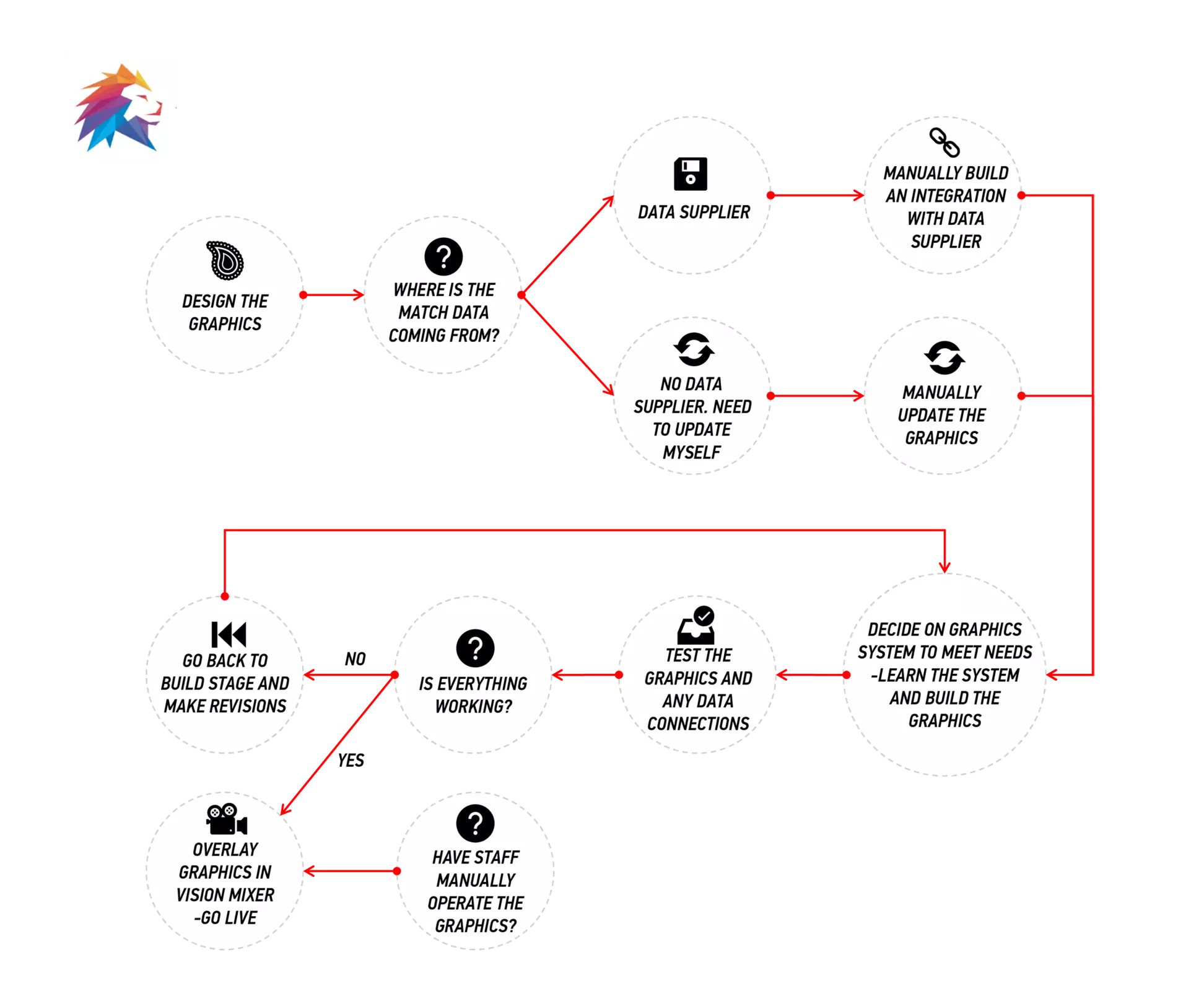 The problem with traditional graphics solutions
The solutions that have been dreamt up by companies to try to fill the gap present in the world of live streaming graphics has come to suffer from some of the same problems those trying to port TV solutions into the streaming world has faced. That again is resources (staff), time and on top of that quality.

Resources (Staff)
While live streaming graphic solutions do not necessarily share the same complexities as television level solutions, they still require someone to build the graphics package. Also, with most live streaming productions operating with small, multi-disciplined crews in comparison to television, this means valuable work force will be taken up for potentially days to build the graphics package. Which brings us into time.
Time
Time is money and money is time - live streaming is an agile environment that requires efficient workflows and crews to keep costs low while maintaining output quality high. Traditional graphics build processes are not suited to these requirements. Having a crew member or even in some cases an owner/operator of a production company, spending days developing a graphics package in a vision mixer like vMix is not viable and not being able to spend time building a graphics package results in rushed work and in turn a lack of quality in the final product.
Quality
Rushing to build or having a person without the adequate skill set building the graphics package results in very lackluster results - and this outcome in live stream graphics is increasingly apparent. Many have come to expect and accept the poor quality graphics that are present on most live streams today.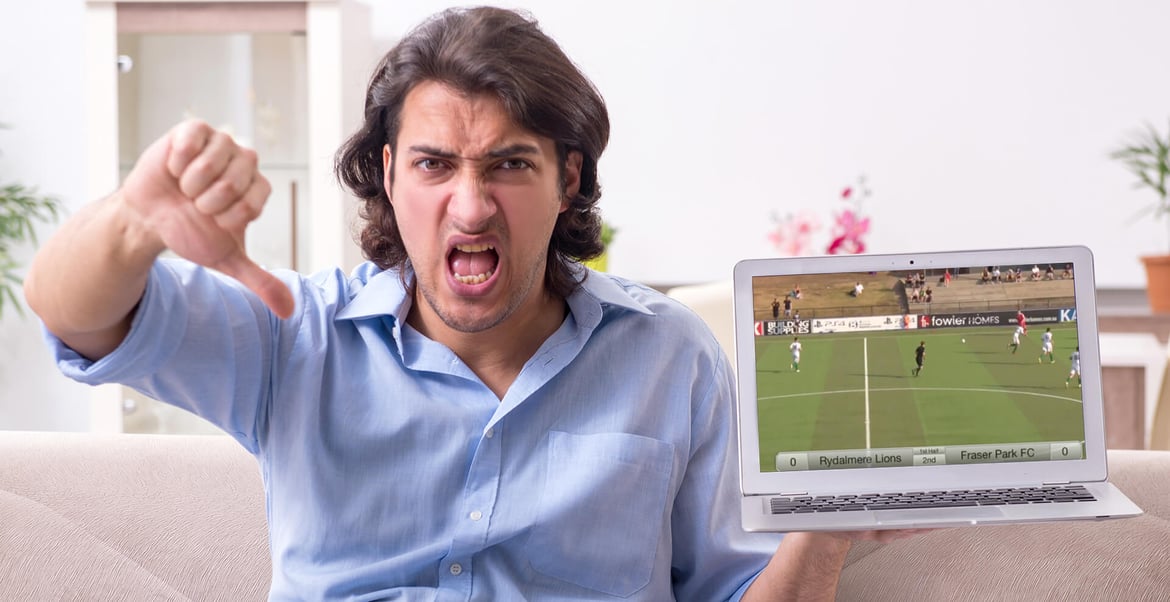 A man displeased with the quality of live graphics on a football live stream he is watching.
The solution
This is where LIGR comes in; a solution was needed, and LIGR has created it. LIGR's live graphics solution is arguably the easiest to use live graphics system on the planet. Effortless, TV-Quality, live graphics that you can get up and running in minutes, something the world thought they would never see, but it is here!
A cloud-based, template, tv-quality graphics system; an entirely new way of executing live stream graphics for sport.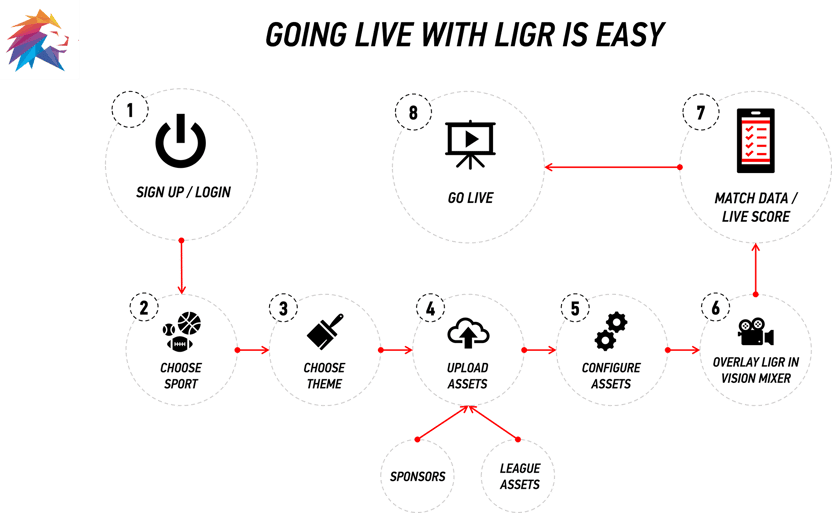 Let's break down the steps to show just how easy it is:
1. SIGN UP/LOGIN
2. CHOOSE YOUR SPORT/CREATE YOUR COMPETITION:
LIGR supports all the most common sports and then some. Choose the one you want to live stream and create the competition.
3. CHOOSE YOUR DESIRED THEME:
LIGR eliminates the manual and time heavy process of designing and building graphics, instead, give you a selection of TV quality graphic-themes to choose from, with new themes being added to the platform all the time. All of which are designed to display rich match data, to bring viewers closer than ever to the action.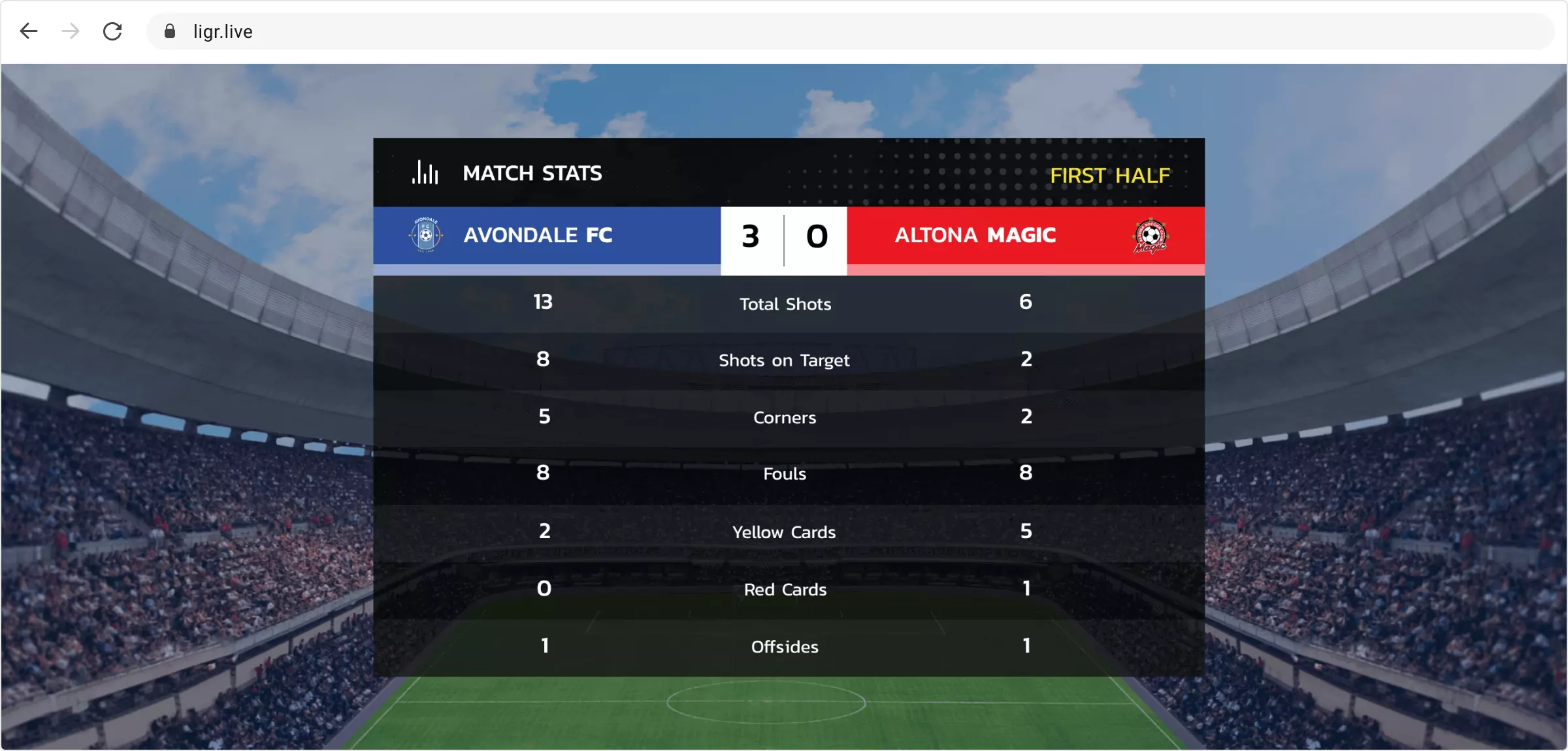 4. UPLOAD YOUR ASSETS AND CONFIGURE YOUR ASSETS:
Team logos, player headshots, team colors and more. Customise the graphics to your desired look.

Want to display advertising and monetise your live stream? No problems! LIGR's easy-to-use, yet powerful in-stream advertising functionality has everything you need.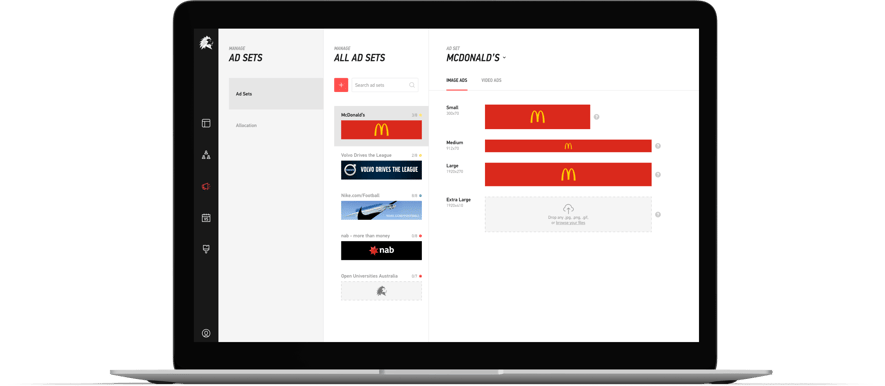 4a. Upload your advertisements
4b. Tell LIGR how often and when you want them displayed
4c. Watch the magic happen
4d. Review in-depth ad reporting right in the LIGR dashboard - showing when and for how long each ad was displayed.
Need help preparing your assets? LIGR has a plethora of tips and tricks on how to prepare your assets to look their best. We've got you covered!

5. OVERLAY LIGR ON YOUR STREAM:
Applying a LIGR graphics overlay to your live stream is easy. With the ability to work with your workflow, the system is modern and flexible. LIGR requires NO onsite hardware and NO onsite graphics operator or expertise.

5a. Generate the graphics URL in LIGR
5b. Copy the graphics URL and paste it into your vision mixer - depending on your vision mixer, the process can vary. In most cases you want to look for a "Web Browser Overlay".
6. LIVE SCORE OR DATA SUPPLIER?: LIGR can power your sports live stream graphics with match data in a couple of different ways; our LIGR LiveScore app or external data from your official data supplier.

We have our LIGR LiveScore app, a simple mobile app where you or the person you nominate keeps score of the game and the graphics automatically trigger on your live stream. No highly-skilled graphics operator required!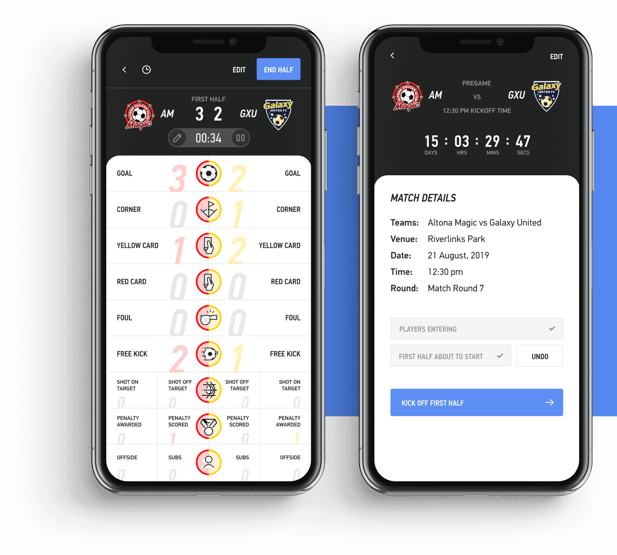 LIGR also integrates with all leading official data suppliers, we can use this data to power and trigger the graphics. Ideal for a completely hands-free operation, let the data do the work for you.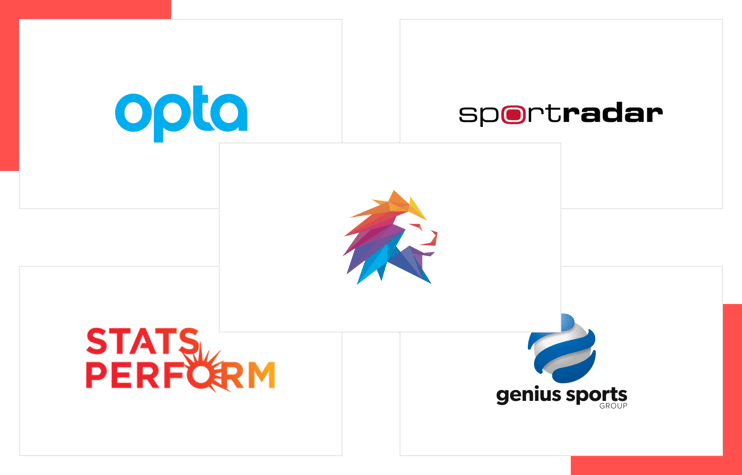 For more advanced users, LIGR also has an API where you can build an integration between LIGR and your own data source to power LIGRs graphics with data.
Conclusion
Now that you have an indication of the history of graphics and how our Next-Gen Live Graphics platform, LIGR Live can helps solve the graphics problem for a new era of sports broadcasts and OTT, let's look at a list of graphics that we feel are crucial to a sports broadcast, no matter the size.
In this article series we will breakdown each graphic, highlight its importance and match data can be used to automate each graphic display and show you how sponsors can be integrated and displayed across your productions. These future articles are coming soon...